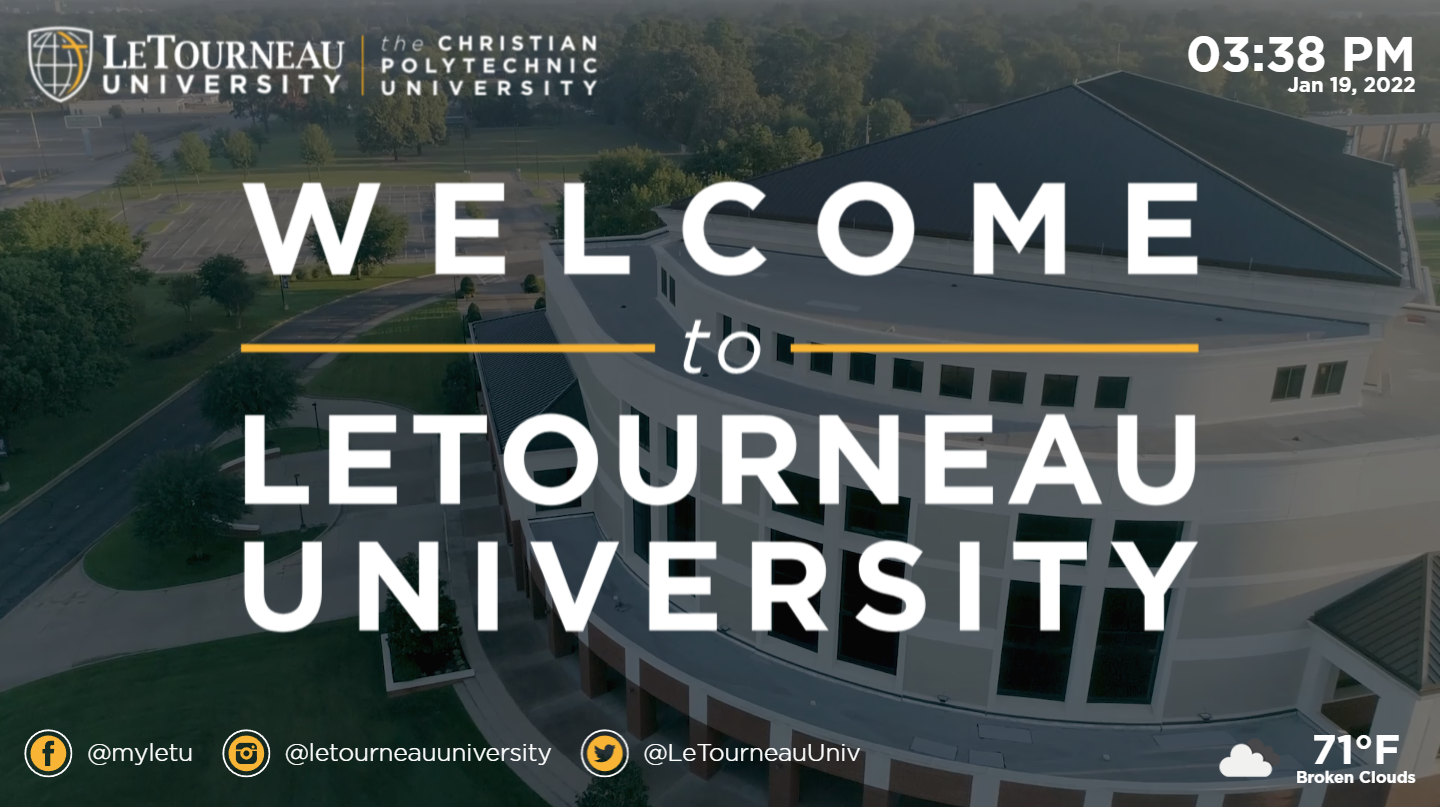 LETU Newsfeed is the campus digital signage system which feeds announcement content to displays all over campus as well as online at letu.tv/sign/main! After you read the digital signage content guidelines in the first tab below, you can submit content requests using the form in the second tab!
Digital Signage Guidelines
Digital Signage Request Form
General Guidelines
Digital signage announcements should be intended to advertise campus events or services that impact a large group of students.
The primary audience for digital signage is students. If your announcement is intended for faculty/staff it will be displayed on the web announcement feed at letu.edu/fac-staff.html.
Signage requests are displayed on digital signage screens throughout campus. Requests for chapel announcements should be sent to chapel@letu.edu
Announcements may be displayed for up to two weeks prior to an event, or for two total weeks when advertising an on-going service. If an announcement is needed for longer than two weeks, a new slide request with an updated image or fresh information should be submitted to prevent the digital signage audience from tuning it out.
Submission Guidelines
Email address: should belong to the person submitting the request who would be able to answer any questions pertaining to the event or service being advertised.
Announcement type:

Event - announcement pertaining to an event that has a date and/or time associated with it (i.e. club meeting, YAC activity, etc.)
Service - may or may not have a date and/or time associated

Event/Announcement Title: Short and concise title for the event or service
Event Location: Physical or online location
Event Description/Announcement Text:

This is the actual content of your announcement. Please include 2-3 sentences describing your event to your target audience. Think of this as the text you might include in a newspaper ad. Important links or contact information are great to include as well.
You are limited to 6 lines of text on a slide. Please include only the most important information.

Image File:

An image may be included on your slide if you wish. Please make sure to submit a JPEG or PNG at least 700 pixels wide. If you have a larger file size, please compress your image prior to submitting it. You can compress files 5 MB or smaller for free at tinypng.com.
Images should not include informative text regarding the event. Images with text will not be displayed.
Landscape orientation is more visually appealing in this format.