Welcome from Mechanical Engineering Chair Dr. Scott Anson
What Is Mechanical Engineering?
Mechanical Engineering is a versatile discipline of engineering dealing with any physical apparatus meant to accomplish a task. Applications of Mechanical Engineering design include products that affect virtually every area of your life, including the following:
Automobiles, farm or construction machinery, and airplanes
Internal combustion, gas turbine, and jet engines
Heating, air conditioning, and

 

 refrigeration systems
Oil and gas, boats and ships, and medical equipment
Robots, automation, and manufacturing equipment
What Do Mechanical Engineers Do?
With a Bachelors of Science in Mechanical Engineering (BSME) our graduates are able to create whatever they set their mind to, including their own career path!
The BSME degree prepares students for registration as a Professional Engineer and provides the educational background for professional employment or for graduate study. A unique blend of mathematics, sciences, and engineering topics, together with communications, humanities, social sciences, and Biblical studies prepares students for professional engineering positions. Graduates from this program hold a wide range of positions including: 
Mechanical Engineer
Aerospace Engineer
Automotive Engineer
Manufacturing Engineer
Mechanical Design Engineer
Project Engineer
Product Engineer
Design Engineer
Oil and Gas Engineer
Marine Engineer
Processes Engineer
Automation Engineer
Research Engineer
Quality Engineer
Sales Engineer
Some graduates take their learned skills from their BSME to non-traditional career paths such as entrepreneurship, management, medicine, law, or even the mission field.
Interesting Classes you will Take
Mechanics of Materials - Learn how force relates to deflection in the structure of your design.
Machine Design - Extend what you learned in Mechanics of Materials to design machine components, evaluate failure criteria, and specify the needed components for your design.
Mechanical Vibrations - Using Newton's Laws of Motions to describe and mitigate unsafe oscillations in mechanical systems.


Fluid Mechanics - Study fluid statics to describe forces on marine structures and fluid dynamics to describe the flow of ideal fluids, boundary layers, and flow through pipes and ducts.


Thermodynamics - Discover the relationship between heat and all other forms of energy and how this can be used to suit your design.


Heat Transfer - Learn how heat flows in a system through conduction, convection, and radiation.



Mechanical Engineering Labs - 

Instrument engineering equipment, and collect and analyze data from a wide range of topics in Mechanical Engineering.
Mechanical Engineering Lab 360 Walkthrough
Dr. Scott Anson, Chair of the Department of Mechanical Engineering at LETU, tours one of the Mechanical Engineering Labs & talks about the hands-on, practical education students receive as part of their elite lab experiences.
For more on the LETU Engineering Labs take a Engineering Labs Virtual Tour
Wind Tunnel Lab 360 Walkthrough
Dr. Scott Anson, Chair of the Department of Mechanical Engineering at LETU, tours the Wind Tunnel Lab where students continue their hands-on, practical education. 
Capstone Project Highlights
Students pursuing a B.S. in Mechanical Engineering participate in a two semester senior design project. Mechanical Engineering students work on nearly every senior design project at LETU such as LETREP: LeTourneau Rehabilitation Engineering Project, ACME: Additive Construction Materials Experimentation, and SWEET SHOP USA - Mint Stick Recovery Project which allows our students to delve deeply into topics that interest them.
Recent projects advised by Mechanical Engineering faculty are:
LUNAR (2020-Present) LeTourneau University Nexus for Amateur Rocketry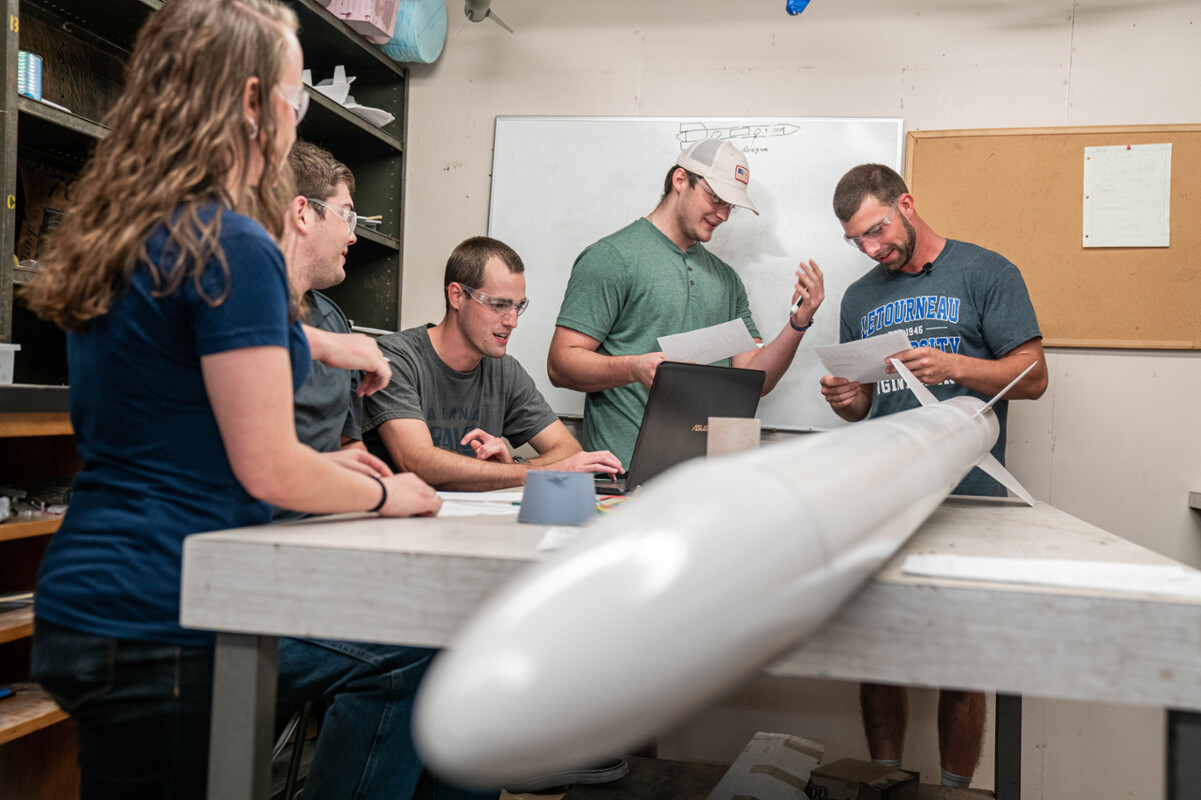 This Senior Design team will join thousands of students from across the country to compete in the Argonia Cup where each team needs to design, build, and test their own high-powered rocket. More information is available on the LUNAR team web page and the rocket launch can be found here: LETU Argonia Cup Launch 2021. 
TATO (2018-Present) Vehicle Mobility Assist Device
This Senior Design team aims to design, build, and test a device to effectively help a person with a disability to get in and out of a vehicle safely and with ease. The device is expected to be cost effective and safe to operate. 
Additional Student Projects
Many students enjoy working on non-capstone projects through clubs, directed study, and junior design to have creative outlets and gain experience. One particular favorite is the SAE Mini Baja Project where students design, build, and race an off road vehicle in the annual Baja SAE Competition. Team members and their sponsor introduce the club and explain what it's like to be a part of the team here: Renegade Racing at LETU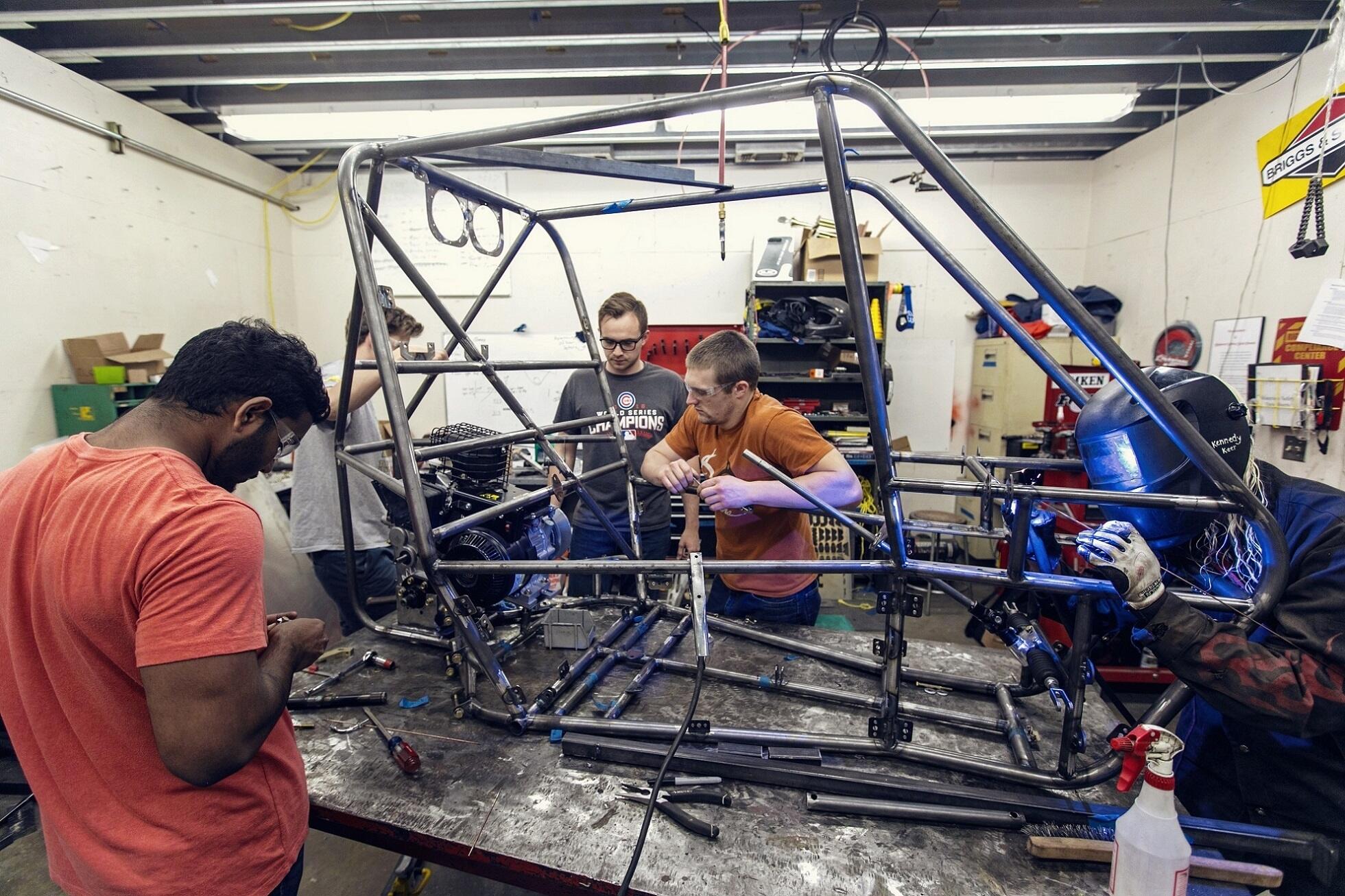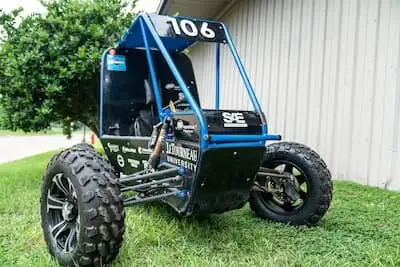 How Do I Prepare?
The program is designed to be completed in a four year period by students who have already completed the following list of courses. However, if you haven't taken all of these courses by the time you graduate high school, you may make up the necessary courses during your freshman year at LETU.
Four years of high school English
Two years of algebra
One year of geometry
One semester of trigonometry
One year of science (chemistry or physics)
Both physics and chemistry are desired. Students who transfer from another college or university should understand that there are sequences of courses in the curriculum, up to six semesters in length, which build on one another.
LEARN MORE ABOUT MECHANICAL ENGINEERING AT LETU