BADGER Robotic Bird Control is a second year project sponsored by A&K Systems. We are creating an autonomous and amphibious robot designed to chase Canadian Geese off of golf courses. Our goal is to build a manufacturable prototype of the autonomous and amphibious robot that was designed and built last year. We are using the latest robotics technology in conjunction with GPS that is accurate to a few centimeters to create a robot that is incredibly smart without the need for a host of external sensors. We are also employing cutting edge Convolutional Neural Network (CNN) image recognition to detect the Canadian Geese so that we can chase them away from golf courses. All of these things put together will allow us to create the Big Amphibious Durable Goose Remover, also called the BADGER.
The team members that have been assigned these tasks are as follows:
Team Lead: Byron Coffin V
Dillon Carroll
Taylor Adamek
Denver Hancock
Yeram Kim
Jephthah Eernisse
Ancel Carson
Hyunsu Kim
Click on the picture below, and you will see a local news station (KLTV) doing a story on the bird chaser.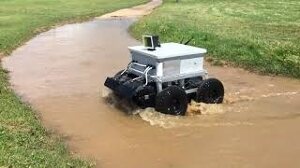 Here is your chance to learn from the best, work on the cutting edge of technology, and get that dream job. Come join us at LeTourneau University. Interested in applying to LeTourneau University click here, for a admission application or contact admissions at: 1 800.759.8811.
If you are interested in learning more about this senior design project contact: Dr. Hoo Kim
If you would like to donate to help support this team please donate at. Donate to LeTourneau University