By Janet Ragland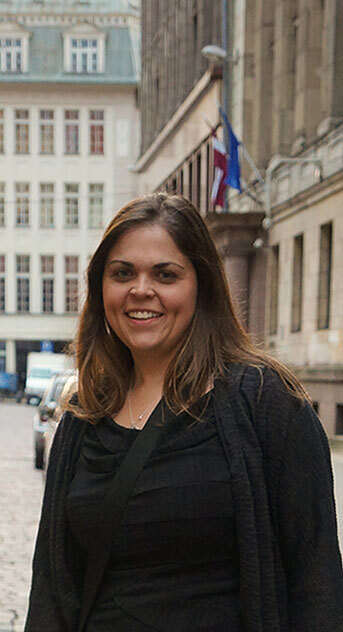 LeTourneau University seeks to provide life-changing experiences for its students—to help them find and pursue their passion to make the world a better place once they graduate, wherever God leads them.
That's exactly what LETU has done for Katie Leatherwood of Athens, Texas.
Katie lives in Riga, Latvia, using her skills in orthotics and prosthetics to provide services to people affected with disabilities through a mercy ministry of Bridge Builders International.
Katie is a 2009 LETU kinesiology graduate who was involved in a global prosthetics project at LETU that introduced her to the impact and need for prosthetics.
She said the university's message of "Every Workplace, Every Nation" emphasized to her the importance of missions.
"I cannot thank my professors and the university enough for the impact they had on my life," she said.  
Katie was in practice for five years at Hanger Clinic in Texarkana and Plano, Texas, following her successful completion of her Certification in Prosthetics and Orthotics in graduate school.  She explained that a prosthesis is a device that replaces a limb, while an orthosis is a devices that supports and stabilizes a limb that does not function properly.
"The main goal of my ministry is not only providing a prosthetic or orthotic device," Katie said.  "Rather, it is investing in the lives of those affected by physical disability by empowering them through physical intervention, emotional encouragement, and spiritual discipleship with the intentional demonstration of Jesus Christ."
Katie said she felt God call her to pursue fulltime missions, after she had served several times on short-term mission assignments to Latvia.  She felt God calling her to use her skills, knowledge and desire to promote disability awareness and recognized God had provided her the opportunities and experiences to equip her for this definite and specific purpose.  
She formed an educational collaboration with a local university's prosthetic and orthotic department in Latvia and has invested in authentic relationships with people there who are affected by disability and are often neglected. 
 "Prosthetics and orthotics have given me the foundation to impact people's lives physically," she said.  "Jesus has equipped me with the foundation to impact them spiritually."  
Because the Latvian health system is selective in providing orthotic and prosthetic services, Katie  provides adjustments and repairs, as well as new devices to those that would benefit but are not given the opportunity, while avoiding encroaching on private practices or governmental services that are offered. Her goal is to provide these services from a mobile clinic.
"I believe God has blessed me with the skills in prosthetics and orthotics to use as a pathway to share His love and message," she said. "I am driven by the conviction that everyone in Latvia, regardless of ability or disability, is entitled to be introduced to Christ."