If the complexity and order of chemical processes intrigues and amazes you, you might be a future chemistry major.
Our chemistry majors gain hands-on experience in the LETU labs, and our strong emphasis on undergraduate research puts our students ahead of the competition.
---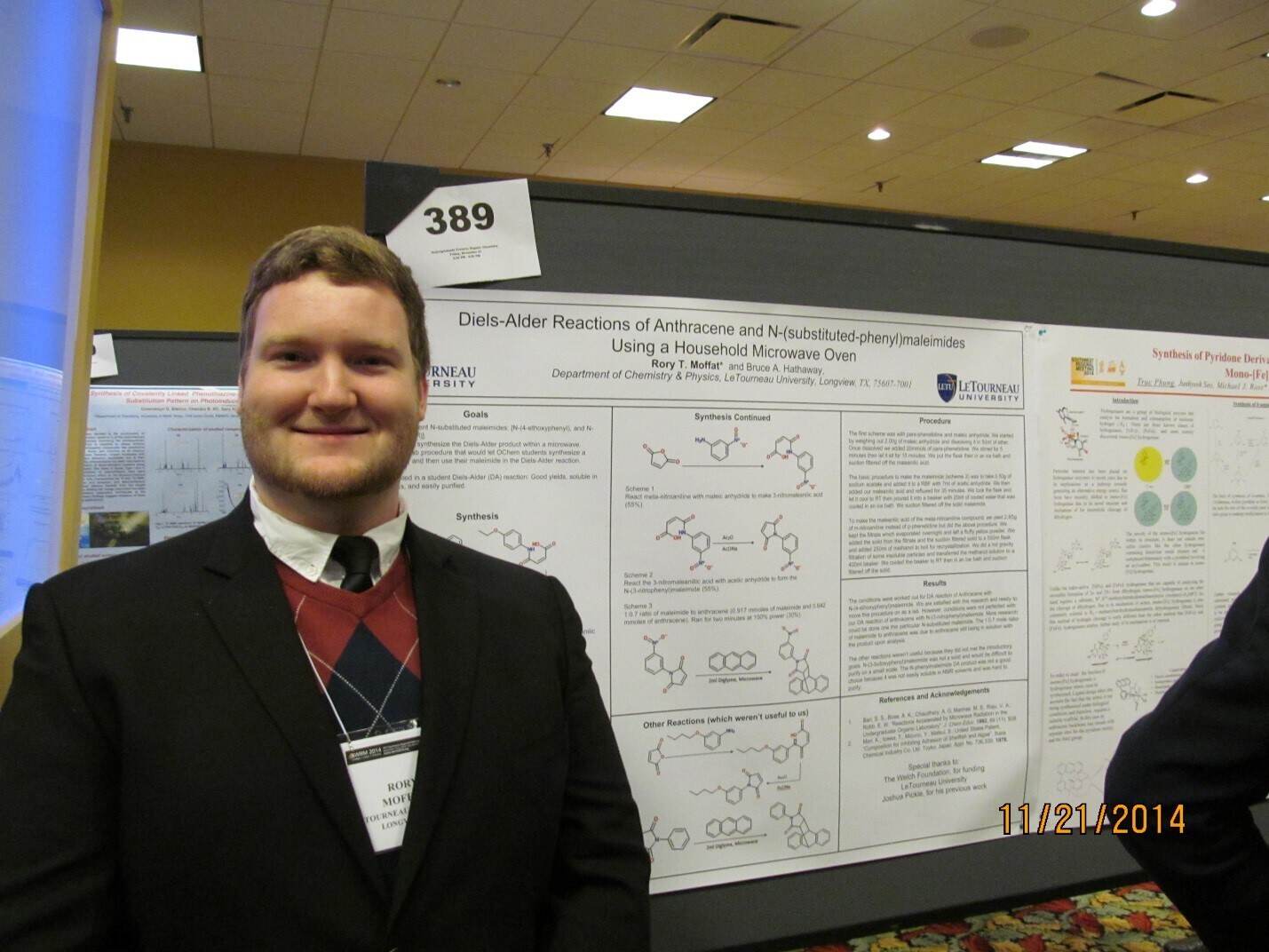 2016 graduate Rory Moffat presenting research at the American Chemical Society's Midwest Regional meeting.
---
The Bachelor of Science degree in Chemistry prepares students for industrial work in chemistry, for graduate studies, or for medical school through the biology concentration and participation in the Pre-medical Program.
Industrial chemists and chemical engineers are needed in polymer studies, air and water quality work, quality control, and research and development.
INTERESTING CLASSES YOU'LL TAKE
Chemical Analysis
Inorganic Chemistry
Organic Chemistry
Physical Chemistry
Introduction to Research
To learn more about specific course requirements, view the course catalog. 
COURSE SEQUENCE SHEETS
 Course Sequence Sheet for Even Year Start
Course Sequence Sheet for Odd Year Start
WHAT CAN YOU DO WITH THIS DEGREE?
According to the American Chemical Society's Comprehensive Salary and Employment Status Survey, the average salary of a full-time chemist with a bachelor's degree surpasses $75,000.
However, many of our students go on to complete graduate studies or attend medical school, generally earning even higher salaries. Common career paths for LETU Chemistry graduates include:
Graduate school in chemistry or chemical engineering
Medical, pharmacy, dental, vet, or medical technology school
Chemical research and manufacturing
Chemical engineering
Government research or crime labs
Law school specialization in intellectual property
High school science teacher
CHEMISTRY FACULTY