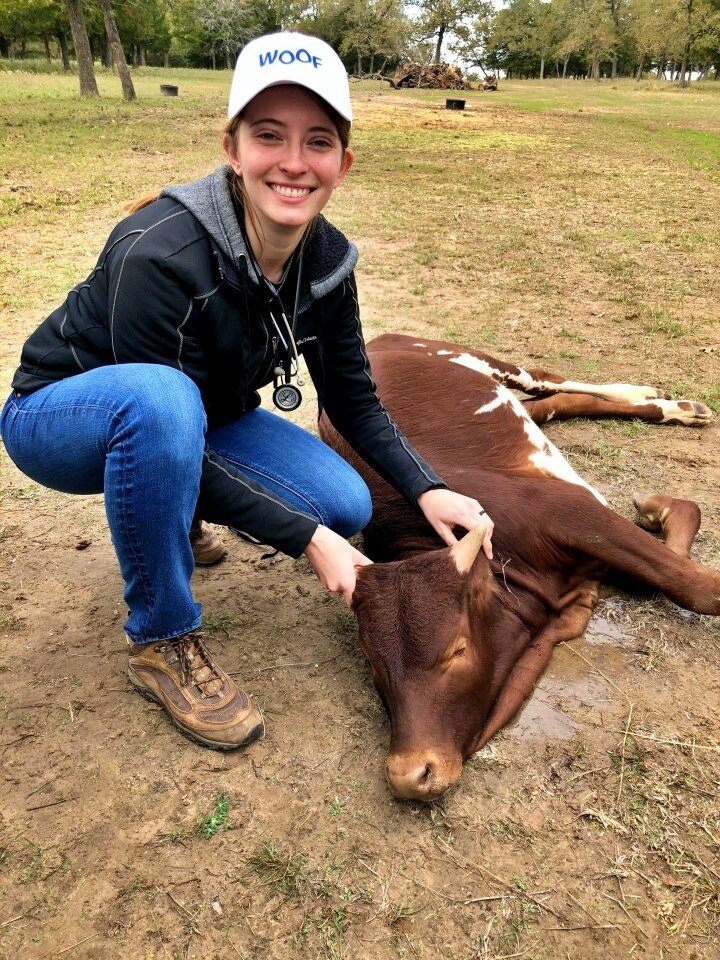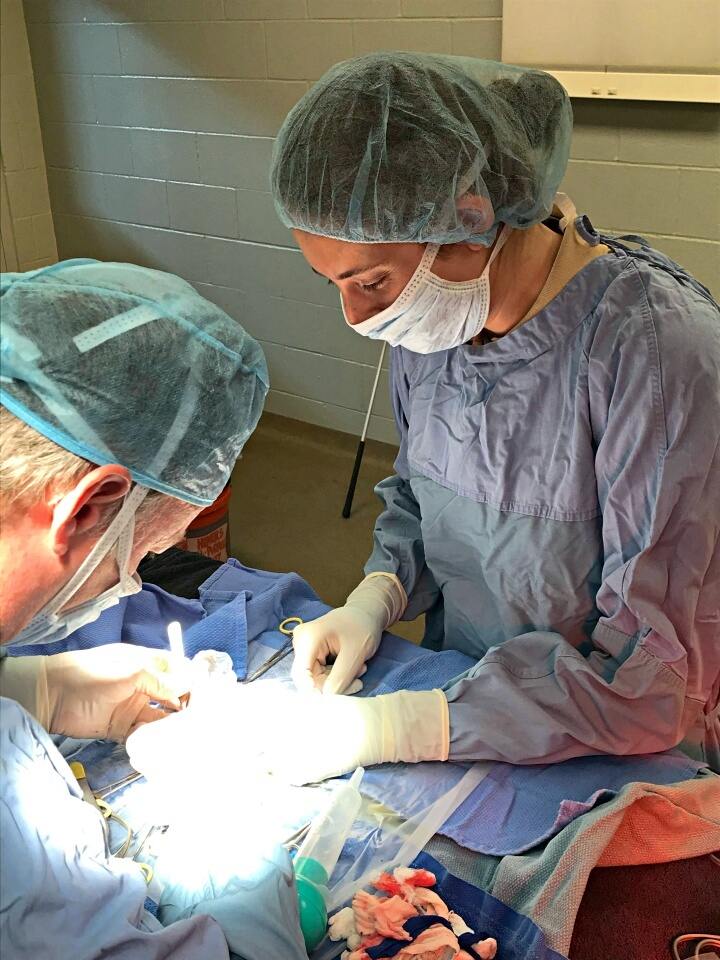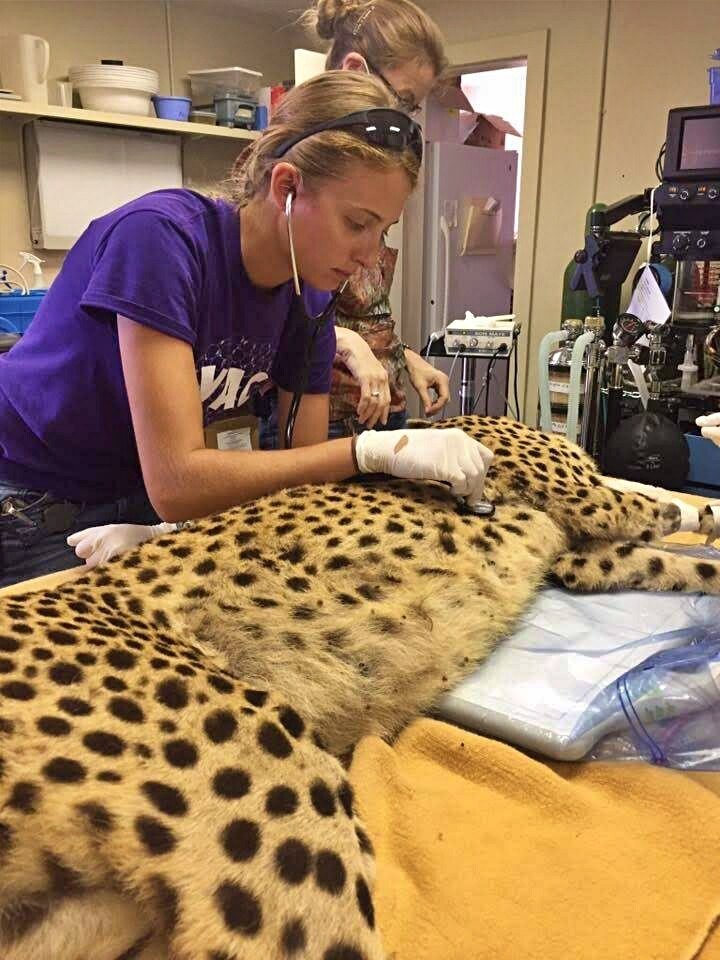 What are you up to these days in your graduate work?
I am a current fourth year at Texas A&M University's College of Veterinary Medicine, tracking with a specific interest in zoo, wildlife, and exotic animal medicine. The first three years of the program were didactic learning, where I took between 19 and 24 credit hours a semester. Fourth year is completely hands on, working in hospitals in College Station and beyond. Graduation is in May 2021!
Why did you choose the field of veterinary medicine?
I always knew I wanted to work with animals, which is why I majored in Biology when I started at LETU. However, I didn't know what exactly I wanted to do. I wanted a career where I could progress and grow and always keep learning new things. I wanted something intellectually challenging but also hands-on and active. I loved research but wasn't sure I wanted to do that full time. I was never interested in medicine until I met two of my closest friends at LETU (both of whom are in med school now), and their passion rubbed off on me. About sophomore year at LETU, I finally put the pieces together and decided being a vet fit what I wanted exactly.
What is your current "extern" placement? 
I just finished a veterinary externship at the Dallas Zoo, which is a position that is typically filled by forth year vet students from around the country who are interested in zoo medicine. Many zoos, especially larger zoos, have externship programs like this. I was planning to go to San Diego Zoo, Nashville Zoo, and the Center for Bird and Exotic Animal Medicine in Seattle this year, but unfortunately COVID has changed a few plans. I am blessed in that Fossil Rim Wildlife Center, Dallas Zoo, Fort Worth Zoo, Abilene Zoo, Cameron Park Zoo, and Texas State Aquarium have accepted me to their externships for the rest of the year. In addition to these 20 weeks at zoos or exotics facilities, I will complete 30 weeks of rotations at Texas A&M's Small and Large Animal Hospitals, working with dogs, cats, horses and food animals (such as cows, sheep, pigs, goats, llamas). 
As a veterinary extern, I accompany the zoo's veterinarians on all check-ups and procedures, from visual inspections and physical exams to taking x-rays, collecting blood samples and performing surgeries. I am responsible for necropsies (animal autopsies) as well as some paperwork and data entry. We work very closely with all of the zoologists (keepers) and veterinary technicians (nurses).
What is one of your favorite experiences with an animal from the past 3 years?
There are so many, it's hard to pick! One of the highlights of my time at Dallas Zoo was getting to help repair some wounds on an injured eel. I was blessed to travel to South Africa on a vet med program where we immobilized antelope and giraffe! I also remember performing my first thoracocentesis (chest tap) on a cat during my Small Animal Emergency rotation at A&M. It's hard to pick just one! 
Since leaving LETU, what has been your biggest professional challenge, and how have you worked to overcome it?
Vet school, and really any other professional or graduate school program, is a challenge that, rather than attempt to overcome, you must learn to adapt and thrive in. The course load is large, the hours are long, the tests are difficult. You learn to re-invent yourself as a student and re-define your learning styles. You learn that "professional student" is your lifestyle, and often, despite your best efforts, your identity. You learn how many things you need to learn. You learn that GPA does not define you or the doctor that you will be. You learn how to study, how to fail, and how to keep sprinting for the finish line. You learn to trust your instincts, and how to truly take a break. You gain resiliency and resist apathy. You figure out why you fell in love with your profession, and you realize you are being taught how to change a life or change the world.
It is your identity that will continue to push you forward during this time. It is the support you feel from leaning on God, on your family and friends, and on your coworkers and colleagues that will lift you up. It's a hard road, but it's worth it. Keep praying, keep listening to Him, stay in the Word, and remember that God called you on this path for a reason!
Personally, a big struggle for me has been moving past the times I felt I was being treated unfairly, usually with regards to a grade or assignment. It's still something I'm working on. Perspective is a huge gift, and often only comes with time, but it has proved to me on multiple occasions that my perceived lack of injustice is quite incidental as I'm on the journey of becoming who God has called me to be.
How do you feel your time at LETU prepared you for the work you have been doing recently?
When I was a student, I knew LETU's biology department was small but mighty, and this is primarily due to its fabulous faculty members. Some of the relationships I developed with my professors and mentors have lasted throughout vet school, and I have no doubt will continue to last for many years. They have been an incredible blessing to me and a resource both professionally (several were gracious enough to write recommendation letters) and personally (reaching out to share mutual prayers and praises).
Academically, I feel that LETU's upper level biology courses prepared me well for life as a professional student. Learning how to juggle lab and lecture course components, as well as the dedication to studying needed particularly in ICHAP, showed me the level of commitment that is necessary for many classes.
How important is your faith in relation to your work – and how do you approach the intersection of those two areas?
My faith is extremely important to me as it helps me process and investigate the ethics of my future profession. It influences not just my work ethic, but also how I handle communication with my colleagues and difficult situations I am placed it. I strongly recommend finding a good church, investing in relationships with fellow believers both inside and out of your profession, and dedicating a regular quiet time. This is extremely beneficial to every aspect of your profession, not just your spiritual health but also your emotional health and mental stability as well! 
What advice would you give to a prospective LETU student who has considered the possibility of a career in medicine? 
First, I definitely recommend getting involved in research! Even if it is not within your specific area of interested, it will look fabulous on your resume for professional school applications and give you a leg up for future research projects. Second, I recommend shadowing or working at clinics in your area of interest. Many professional programs require this, and all strongly recommend it. These programs are looking for people who they know are committed to the field and are aware of what their day-to-day life will look like in the profession.