About
Amenities
Floor Plans
Photo Album
Gilbert Hall is the only all-female traditional residence hall on campus and is open to students of all years. Its small size allows close-knit communities and friendships among residents to develop easily.
Gilbert Hall is named for Thelma Gilbert, remembered for her consistent support of LeTourneau University. The building opened in 1998 and replaced the infamous and dilapidated W.R.H. (Women's Residence Hall).
Gilbert Hall is located near the center of campus in the same courtyard as Thomas Hall and Davis Hall. There are three floors in Gilbert, each housing 25-35 students. The building is secured with keycard access, and residents can get into the building and their own floor 24/7 with their student IDs. Other female students can access Gilbert until midnight, but male students only have access during set visitation hours each week. The women of Gilbert have embraced the "brother floor" concept and enjoy strong relationships with their companion floors.
Each floor in Gilbert has one student residence assistant, and the hall as a whole has 1-3 student spiritual life assistants.
The first floor of Gilbert is split in the middle by the lobby, which has couches and chairs to give students a comfortable place to study or hang out. The lobby is open to all students from 8:00am-midnight every day. The first floor also has a laundry room with free washers and dryers for all Gilbert residents to use. The second floor has a lounge space that houses the hall's communal kitchen, and the third floor has a large lounge space with a piano. Gilbert shares a parking lot with the Trinities across the street.
The rooms in Gilbert are double occupancy. Unlike rooms in other residence halls, Gilbert rooms are organized in apartment-like suites, with 3-4 rooms sharing two bathrooms and a living room space all connected via hallways. There are 4-5 of these apartment-like suites per floor. Many students find the unique suite layout strikes the perfect balance between connecting with people they live with and having a bit more space with a quiet environment.
The rooms in Gilbert Hall each have:
Two height-adjustable beds that can be bunked or lofted
Two desks
Two desk chairs
Two small bookcases
Two three-drawer dressers
Two closets with a hanging rod and shelf
Loft kits are available to be checked-out from the Gilbert Hall staff (ask your RA when checking in for details). Bedrooms in Gilbert have tile floors.
First Floor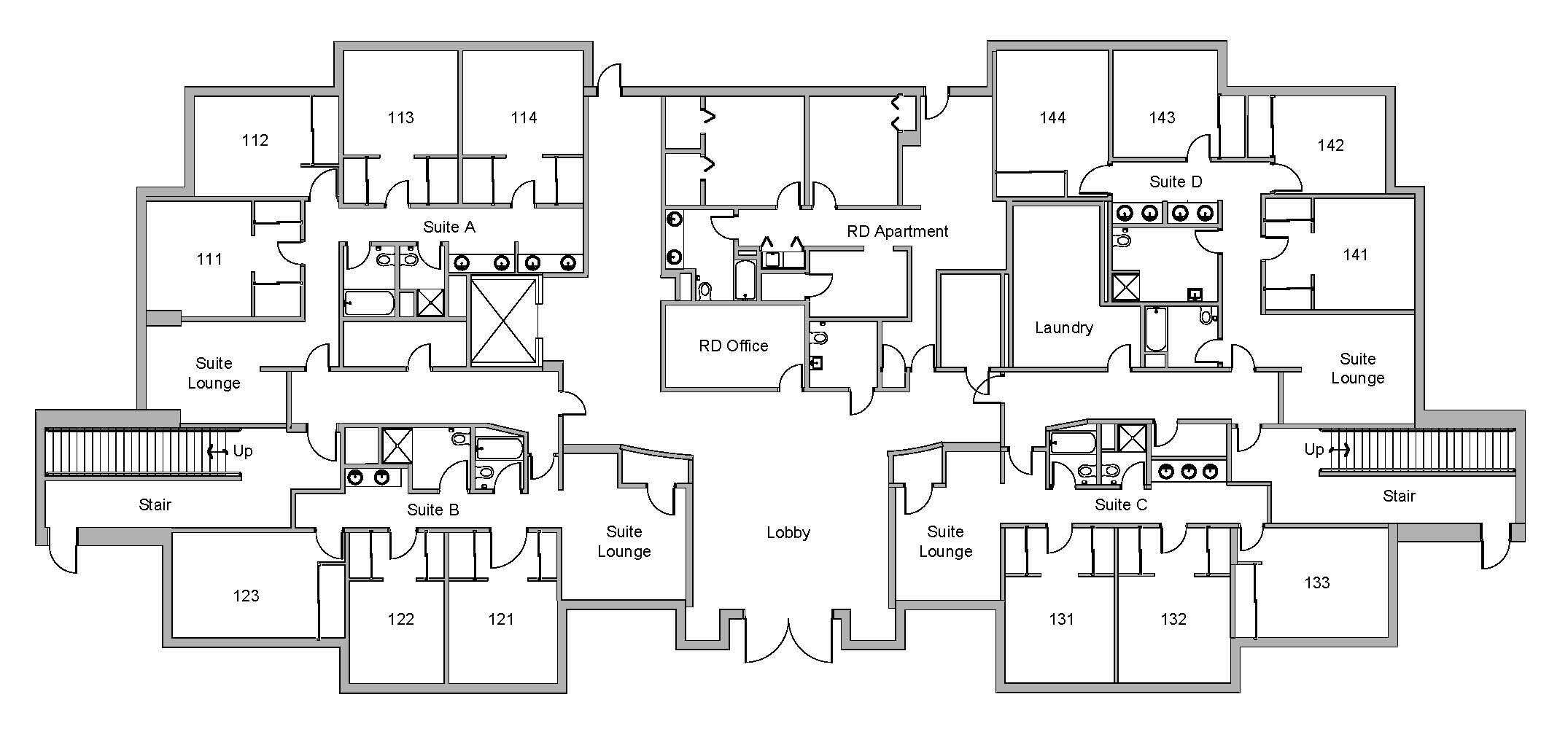 ---
Second Floor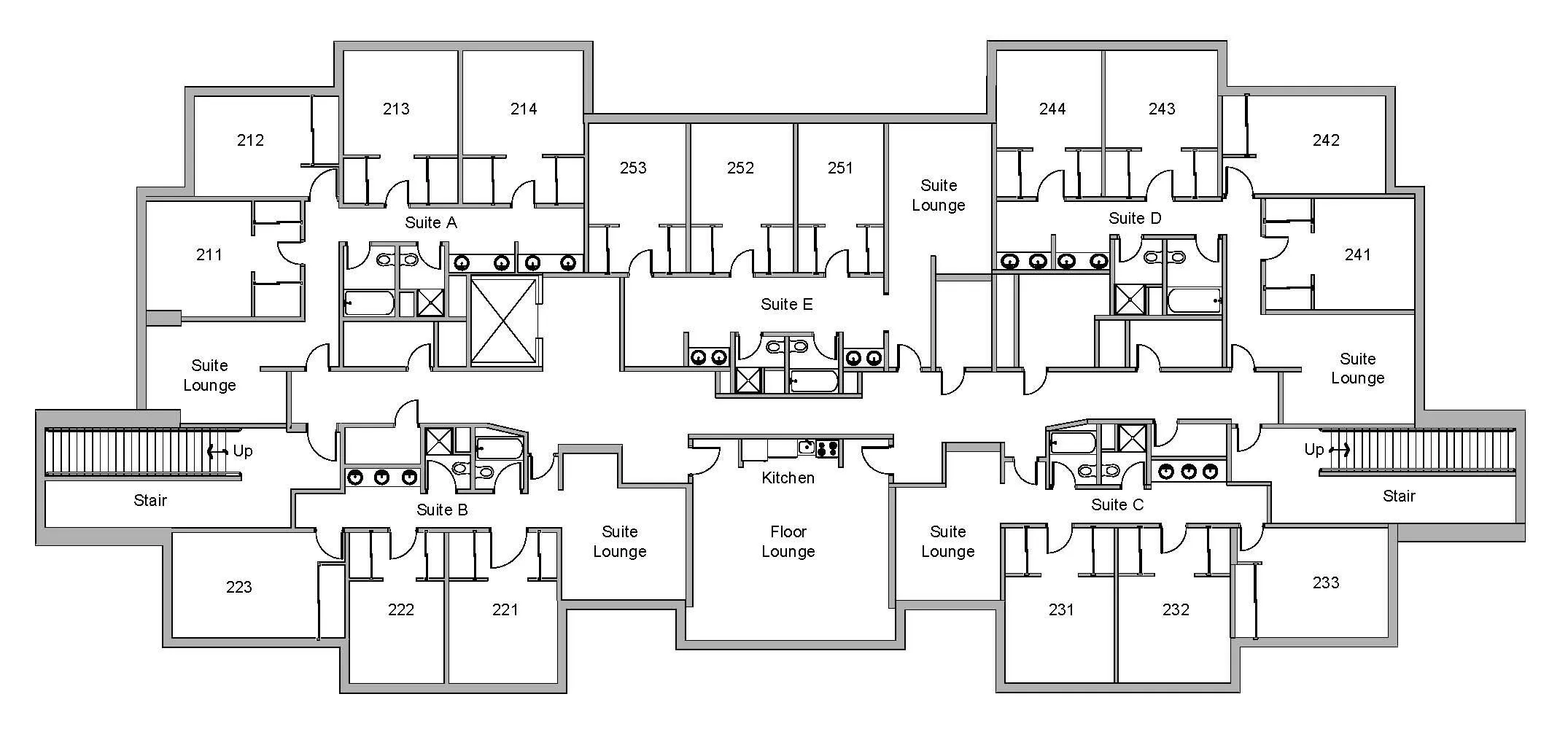 ---
Third Floor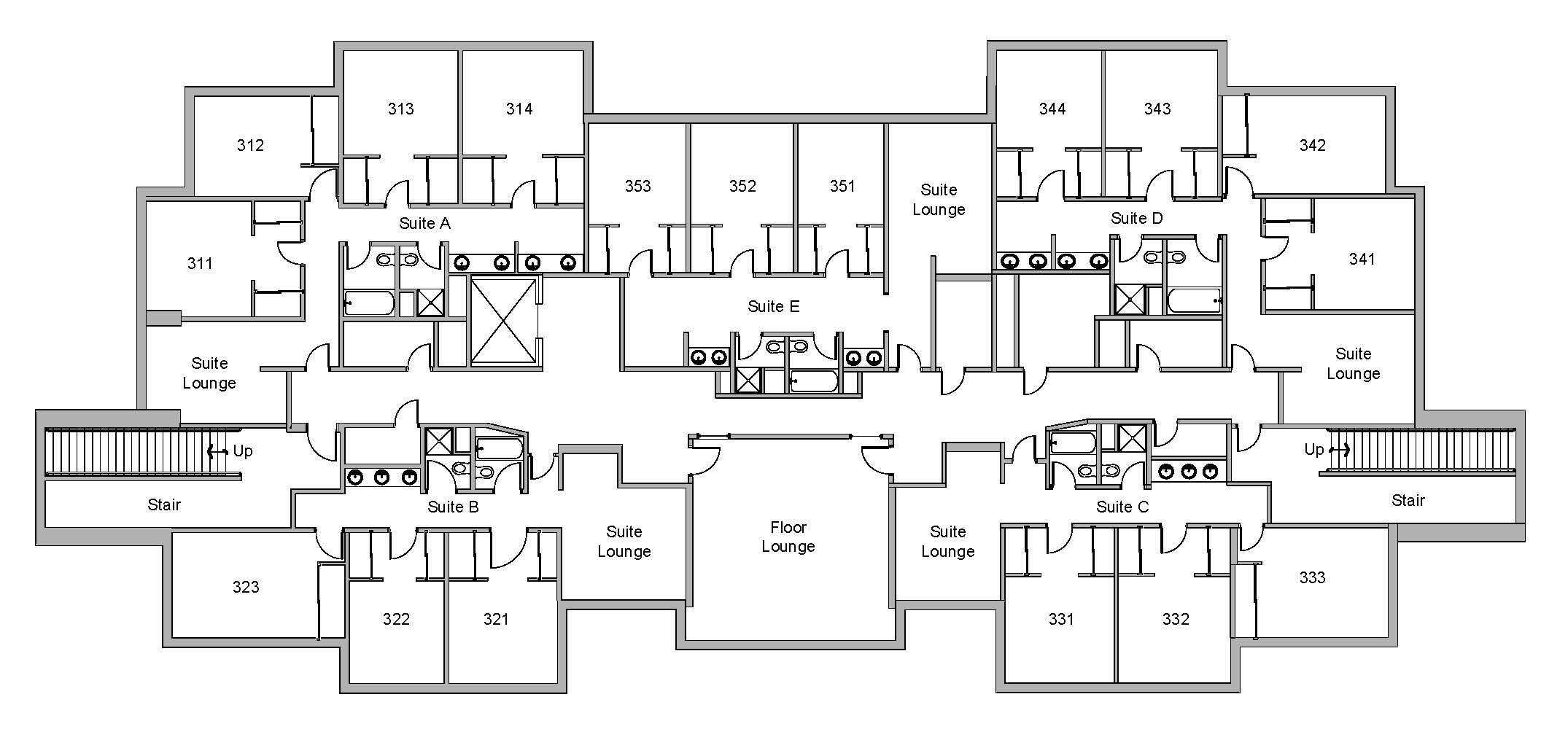 ---
Suite A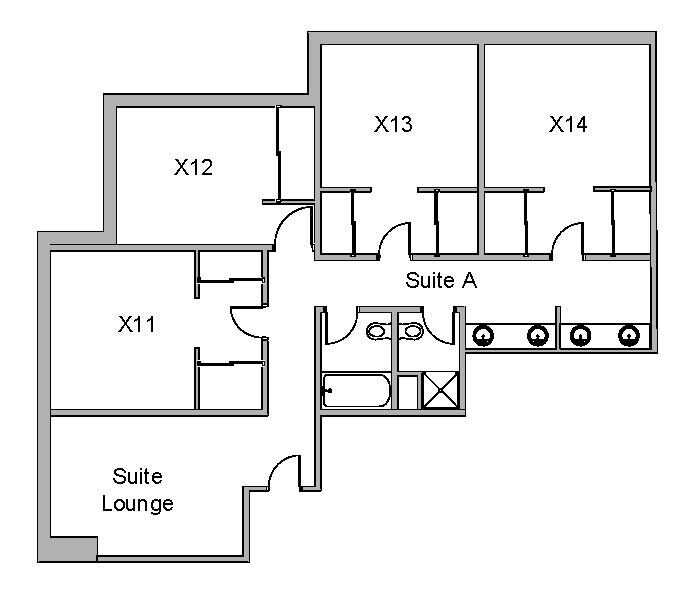 ---
Suite B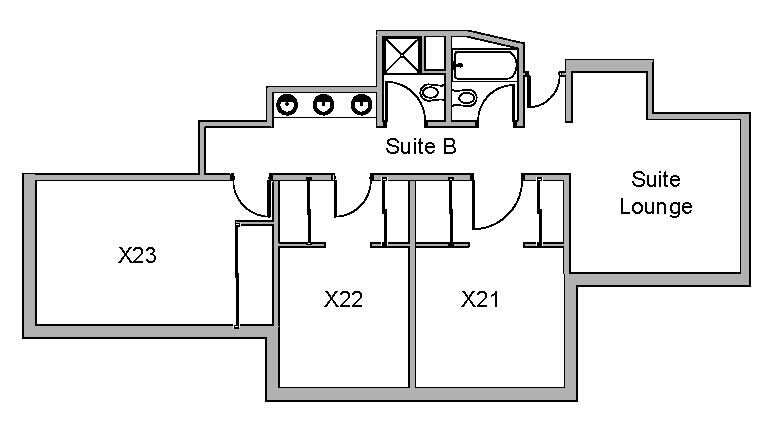 ---
Suite C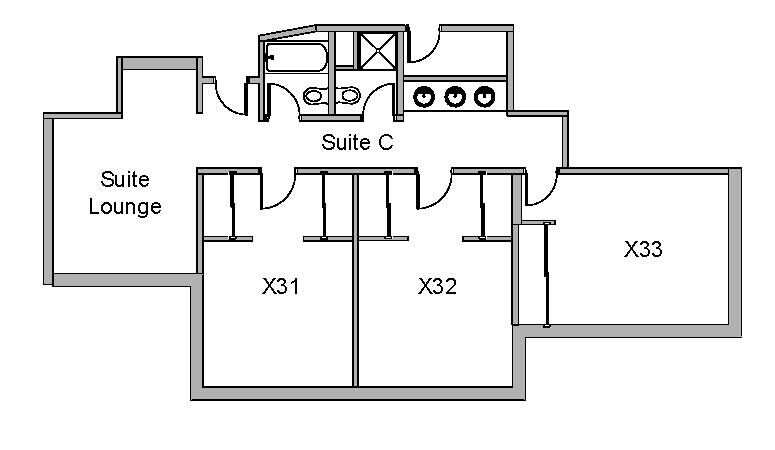 ---
Suite D1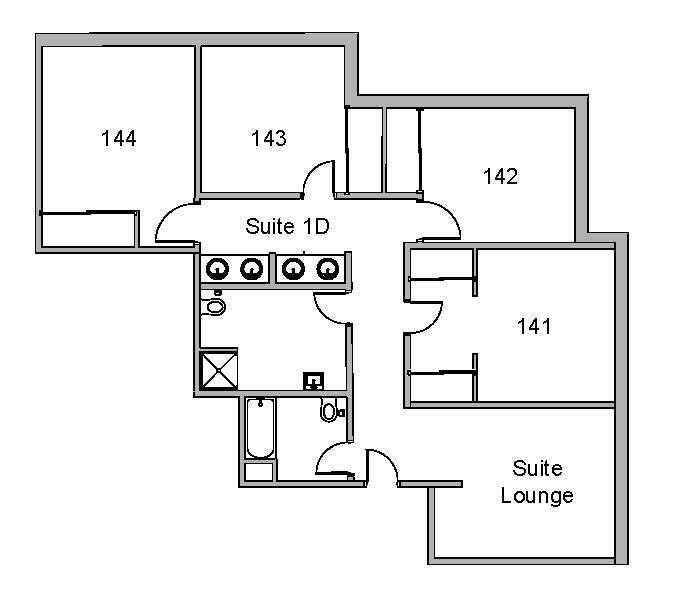 ---
Suite D23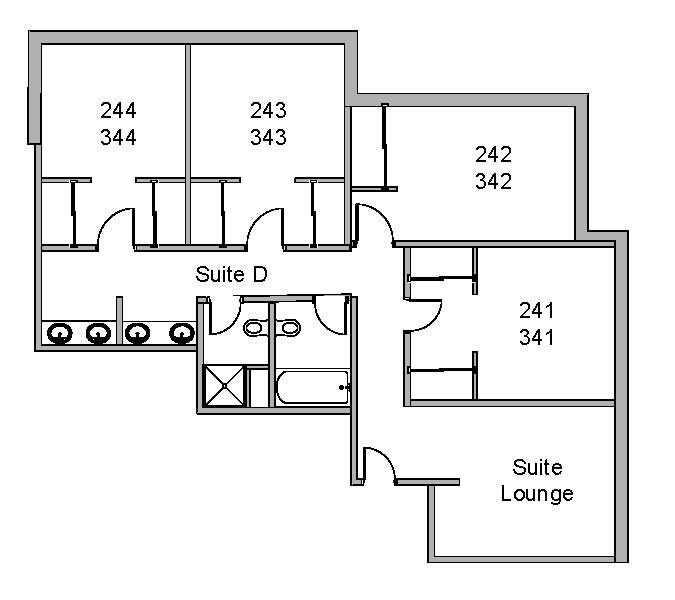 ---
Suite E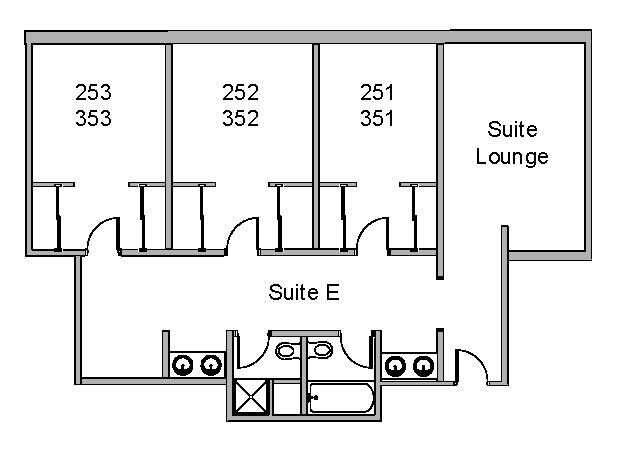 Windows are 62 inches high by 41 inches wide, and the bottom of each window is 35 inches from the floor.