Every year, LeTourneau University hosts the Career Fair for students of all majors, with numerous companies and employers visiting campus to recruit. For a full list of this year's companies, and for more career resources, click here.
Many alumni return for this event with their employers because they know that LeTourneau graduates are exceptionally talented, well-educated, and hard-working. We caught up with some of them this year, as well as some current students, to hear about the benefits of attending the fair.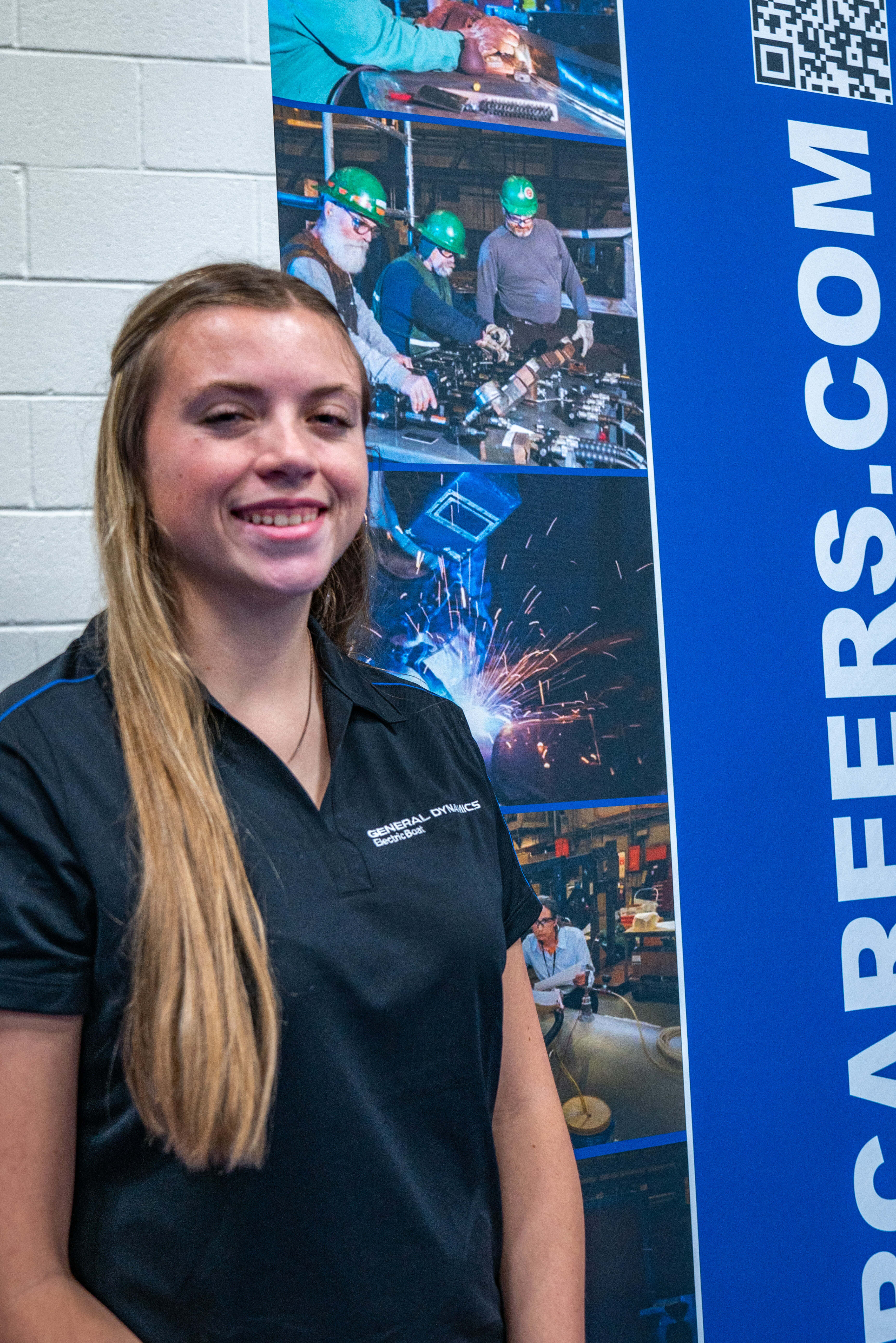 Izzy Ryan, General Dynamics, Electric Boat (ME, 2022)
What do you enjoy most about working for your company?
I really enjoy how diverse the work environment is. I technically only do structural engineering, but I also work with all of the surrounding departments as well (piping, electrical, etc.). There's also a lot of diversity in what's being built and designed, so it's always something different every day.
What does your company value in new employees?
We value the desire to learn, being willing to learn skills you don't have or what you can do to improve. We're looking for people who want to put the effort into designing the best thing possible. We supply submarines for the navy, so it has to be quality and it has to be good the first time out.
How do you feel your LeTourneau education equipped you for the job you're in now?
My classes in Statics, Mechanics of Materials, and Machine Design prepared me for my current position, especially doing bulk calculations and figuring out how things will fail and where high stress points are. Also, having a background in Solidworks has really helped me learn our in-house program for FEA analysis much quicker.
Reagan Moreno, Capacity Trucks, (ME, 2020)
Why does your company enjoy coming to the Career Fair each year?
The new hires we get from LeTourneau seem to be the most qualified out of all the people we hire. Our managers have been very impressed with the quality of education and hands-on experience LeTourneau graduates have, and you don't see that in a lot of graduates from other bigger schools like Texas A&M or UT Austin or around the country. 
As a former student, what advice would you give to future student who come to the Career Fair?
Even if you're just a freshman, get out and talk with people, shaking hands, networking, getting business cards and contacts. At school, find projects and work that will make you stand out among your peers. Senior Design is a big help for that. Go to the Career Services Center for help with resume-writing and editing. You can also hire people to write professional resumes for you, which helped me stand out and get noticed by different companies in my field.
Chris Hayes, Senior, Pro Flight Major
What does it mean to you to have this sort of event on campus each year?
I love it, it gives me an opportunity to see what's out there, what potential jobs I could have, what different environments and cities I could work in. It really opens my eyes to see what I would want for a job. It's given me a better understanding of networking and how to talk to people in the corporate environment and see what they have for me.
How does interacting with numerous employers and companies in person prepare you even further?
It's helped me learn how to present myself in that setting. You have to think about how they'll perceive you, you want to dress professionally and look good. You have to present yourself in the best way socially, and if you do well, they're more likely to give you contacts or offer you a job.
 Ethan Palmer, Senior, Aviation Maintenance
How has this prepared you to be ready for a career?
My mentors and professors pour into me as I prepare for the career fair. They help me develop my resume, tell me how I should dress and speak. I understood some of that before college, but these are the final criteria you need to develop as you begin your career. You're also networking which is important to get your foot in the door.
How does talking to numerous employers and companies in person prepare you even further?
By going to different stations, you discover different options and job availabilities. It's completely geared to what you want to experience, and being able to hear their missions and goals tells you what they have to offer, allowing you to choose an option that fits best for you.