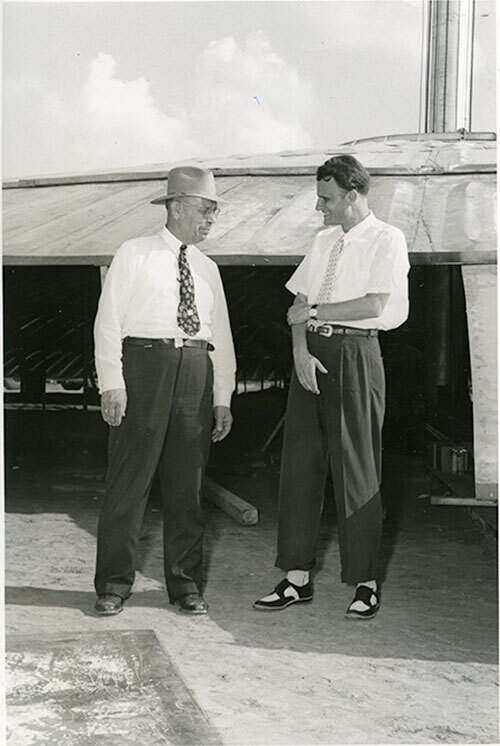 Described as the most significant religious figure of the 20th century and fondly referred to as "America's Pastor," the late Rev. Billy Graham died on Feb. 21 , 2018, at the age of 99.  Graham preached the gospel to more persons than any other preacher in history, an estimated 215 million in his lifetime.  Decades of his faithful service to preaching the gospel have led untold numbers to Christ.
The first religious leader in history to lie in honor at the Capitol Rotunda in Washington, D.C., Graham was described by President Donald Trump as "an ambassador for Christ who reminded the world of the power of prayer and the gift of God's grace."  
Graham didn't just belong to the nation; he also belonged to LeTourneau University, where he had a unique and close bond with LETU founders R.G. and Evelyn LeTourneau.
Evenly LeTourneau founded a Christian camp—Camp Bethany—in Winona Lake, Indiana, and a young Billy Graham as a Wheaton College student worked as a camp counselor and later a speaker.  A friendship formed.  
In 1946 when Billy Graham was drawing huge crowds to Youth For Christ rallies as YFC's first paid evangelist, the LeTourneaus launched their manufacturing plant in Longview, Texas, and founded LeTourneau Technical School to educate returning World War II veterans.  
In 1947, the young evangelist came up short on finances and reached out to R.G. LeTourneau for help to finish his European tour. Not only did LeTourneau provide a cashier's check a few weeks later, he flew overseas to attend one of the meetings in Birmingham, England.  LeTourneau became a faithful supporter of God's work through Graham's evangelism rallies for years thereafter.
Years later on a visit back to Longview to visit the LeTourneaus, Graham was quoted in the Longview News Journal, saying: "When I was just starting out to preach, I didn't know anyone and nobody knew me. I was in Ireland and I needed some money and didn't know where I could get it . . . I just sat down and wrote Mr. LeTourneau and told him my problem, and you know what he did?  He sent me a check for $7,000."
Billy Graham gave the address at the dedication service of a converted military surplus ship that LeTourneau used to send machinery and supplies to his missionary settlements in Liberia, Africa and Peru. The ship is named the R.G. LeTourneau and it was docked at the LeTourneau factory in Vicksburg, Mississippi.
R.G. LeTourneau designed and built a domed structure in 1953 for Graham to use for revival meetings during a speaking campaign in Great Britain, referring to it as the "Billy Graham Crusade tabernacle" in a letter dated May of 1953.  While it never was used for its original purpose due to problems with the London city council, the domed structure went on to be used for several years for graduation ceremonies for LeTourneau Technical School students.  It stands in south Longview to this day, at the Longview plant now owned by Komatsu.
LeTourneau Tech became a college in 1961. Graham served on the LeTourneau College Board of Trustees from 1961 to 1975.  In 1971, Graham was a featured speaker at the LeTourneau College 25th Silver Anniversary celebration, holding a community-wide Crusade meeting in Longview High School's Lobo Stadium to share the good fortune of the college and bear witness for Christ.  Graham's eldest son, Franklin Graham, attended a few semesters at LeTourneau University where he learned to fly an airplane. Years later, on May 6, 2000, Franklin Graham was a featured keynote speaker at a LeTourneau University commencement and was awarded an honorary doctorate.
When R.G. "Pop" LeTourneau died in 1969, Graham was unable to attend the funeral, but he sent associate evangelist Grady Wilson to represent him and give a tribute, and George Beverly Shea to end the funeral service by singing two verses of "How Great Thou Art" as a solo, with the congregation joining in on the chorus. Other members of the Billy Graham team taking part in the ceremony were Cliff Barrows, music director, and Ted Smith, piano accompanist.  LeTourneau University celebrates the life and ministry of the late Billy Graham.