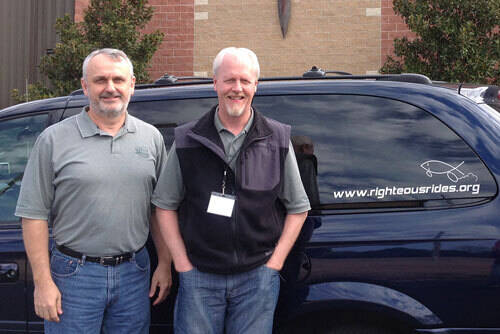 By Rachel Stallard
Two 10-year-old boys met in Sunday School at a church outside St. Louis, Missouri, becoming fast friends and spending weekends together over the years, tinkering with their bicycles, mini bikes, motorcycles, and eventually, cars.  When the young men went off to LeTourneau College in 1977 to study business, they thought they might someday even start a business together. Little did they know that their dream would eventually come true --40 years later --with another garage collaboration that would be fine-tuned for missionary families who need reliable transportation during furloughs.
LETU alumni Mark Reighard '81 and Bret Byus '81 founded in January 2007 their Righteous Rides nonprofit to rent vehicles to furloughed missionaries.  That year, Righteous Rides put five Chrysler mini-vans on the road.  
Byus oversees maintenance issues in their 70-vehicle fleet at their base camp at Moscow Mills, Missouri.  Byus addresses power-train and electrical issues, as well as realizes efficiencies in parts, labor and troubleshooting, by communizing their fleet. 
Through God's providence, the nonprofit purchased a 10-year-old auto dealership in a nearby town in Missouri—at a third of the original asking price. Their 10-acre facility has parking for 850 vehicles, sports a 20,000-square-foot building, and features an 8,000 square-foot showroom that's currently being leased by a start-up church of 350.
"It's incredible the way God orchestrated all of these pieces," Reighard said. "We didn't need the showroom, and the church's rent is paying for our note on the building. God closed the door on other facilities we were looking at, and kept anyone else from buying this one, just so we could have the facility at that specific time in the life of Righteous Rides. It wouldn't have worked any sooner, or any later." 
"We truly have the facility now that we need," Byus said. "We could operate a fleet of 4,000 to 5,000 out of there with no problem. Everything we need is there." 
After graduating from LeTourneau in 1981, the two took separate career paths— Byus went to Chrysler; Reighard to Boeing.  The two both returned to their hometown in 2005 with the intention of shifting gears.
 "We were sitting around one day, talking about what we could do that would use the skills God's given us, and all this work we've been doing chasing money in our careers, that would be Kingdom work?'" Reighard said. "Because of our friendships with missionaries, we knew there was a need for affordable, reliable transportation, so we said, 'Let's buy a van and let them use it.'" 
Reighard brought his business experience incorporating a 501c3 with tax exemption status. Byus used what he had learned from his "day job" to introduce a reliable vehicle he knew inside and out.
 Staying in contact with LETU friends was also a motivating force in their decision.
 "Of all of our colleagues we went to school with, it seemed like maybe 30% of them ended up in international missions," Byus said. "We saw first-hand that one of their main concerns when they came home was finding something to drive."
Some of the challenges included where to find a car, how to buy a car (with no credit, insurance or experience), who to turn to if it breaks down and what to do with it upon returning to the mission field. Byus said some had seen a 12-month furlough in the states costing $5,000 to $6,000 for transportation.
"Furlough ought to be about recharging, relaxing and resting; and often it's about headaches and hassles and high costs, so whatever we can do to be an encouragement is an asset," Reighard said.
"Word-of-mouth is a big deal in the missionary community," Reighard said. "You can see it when a missionary from Kenya used a van, and all of sudden e-mails are flooding in from Kenya. Once they get a taste of the ministry and what it does, it takes that worry away. 
"If a missionary couple uses the van once, they usually go ahead and reserve their spot for their next furlough three years later, as well," Reighard said.   
Righteous Ride's fleet is often booked several years ahead. Volunteers, strategically located near larger airport hubs, help in expanding the ministry by ferrying vehicles between airports and the base camp in Missouri. Byus said he also calls on his East Texas friends for quick fixes when he can't get to a vehicle.
"We have a lot of LeTourneau alumni in the Longview area that we have been able to tap into," Byus said. "LeTourneau is always looking out for missionaries. I think that was instilled in us through R.G.'s influence."
The ministry funds itself primarily by serving as a used-car lot; albeit a reputable one with an all-points system check and complete disclosure.  Righteous Rides is licensed to accept, refurbish and resell donated vehicles, such as cars, jet skis, campers and boats. 
"We accept a car with its problems, fix the problems and then retail it, sometimes doubling the price and improving its value," Byus said.
He said donors get to maximize their tax deductions, don't have to worry about selling the vehicle and know the money from their donation is going to a missions-minded organization.
Besides donating vehicles, other ways people can be involved in the ministry is through donating time— especially car junkies with a few vacation days on their hands.  
"In the shop, we meet a lot of guys who are Christians; but they're not going to teach a Sunday School class, or sing in the choir, or lead the Awanas program," Byus said. "But if you ask them to come work in the shop, drink some coffee and do a brake job, they're all over it. This is a way for guys to be involved in ministry, in fulfilling the Great Commission, and it's something they enjoy doing. They've found a gift that they can use to serve the Lord. We provide that for a lot of men who otherwise wouldn't know how to serve."
Righteous Rides also ministers to the needs of the missionaries because each van comes to the family with a full tank of gas, a DVD player and a GPS navigation system, along with personalized backpacks loaded with toys for the kids and care packages with toiletries and snacks for the adults.  Righteous Rides also offers a 24-hour hotline that missionaries across the country can call with confidence.
"When we give them the van, it's spotless," Reighard said. "These gift bags are in there, and we tell them how much we appreciate what they're doing and the sacrifices they make to serve the Lord overseas. We also pray with them before they leave."