By Janet Ragland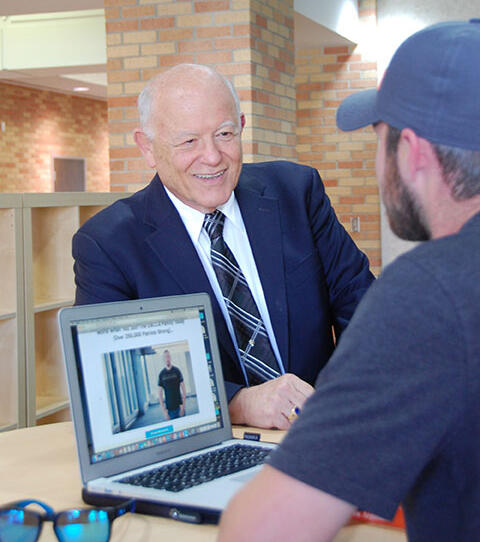 One Sunday morning in 1952, a thin, painfully shy, 11-year-old boy from the poor side of town in Tucson, Ariz., awoke, dressed and walked five long city blocks to a small Baptist church, alone. He had never been there before.  His family weren't church goers. He knew no one there.  He could not yet know it would be the beginning of his own new life in Christ, or that he would also eventually lead his entire family—his mother, younger brother and sister, and eventually, his alcoholic father—to salvation in Jesus Christ.
 "I'm just an average person who God has used to do some extraordinary things to help make a difference," said Van Graham, LeTourneau University's new dean of the School of Business. "I've always tried to be obedient and effective wherever God has called me, and He has put me in places I would have never imagined."
A military veteran, Graham served in the United States Air Force in intelligence gathering under a top security clearance. He completed an intensive study in Chinese Mandarin at Yale University's Institute of Far Eastern Languages, and after his active military service, he later taught Chinese at the Defense Language Institute in Monterey, Calif.
A first-generation college graduate and the only one on either side of his family to earn a college degree, Graham attended Asbury College where he earned his bachelor's degree in mathematics. He taught middle school mathematics in a rural school in a church community for three years.
When a friend from Oral Roberts University called him one summer saying they needed a math teacher to fill in for someone going on sabbatical that next January, he accepted.   
"There was a gap of about six months, so we moved to Tyler, Texas, to visit friends and take time to refresh spiritually and work in church ministry," Graham said.  He and his wife, Martha, and their 7th-grade daughter Erin arrived in Tyler the summer of 1972 and began attending Grace Community Church, where it became obvious they were about to start a church school. Church leadership approached Graham to start the school.
"They came to me and said they thought I could do it," Graham said.  "At first I said no." But after praying and reading a verse in Acts 10:20, where God tells Peter that he is sending some people to him and to "go with them, doubting nothing: for I have sent them" (KJV).
When the committee came to ask him again, he agreed. 
 "If the Lord's in it, let's do it!" he said.  
In the fall of 1973, Grace Community School opened with about 60 students, and for the next 10 years that Graham served as the school's headmaster, the school grew and had a waiting list. The enrollment of Grace Community School today is over 700.
"Whatever God calls us to do, He equips us to do it," Graham said.  "And I do it with my whole heart.  He will work it out if I am faithful."   
Graham felt God lead him to pursue a law degree after hearing Dr. Frances Shaffer speak at a conference where he asked his audience, "Where were you when your religious liberties were being taken away?"  Graham entered Baylor School of Law at the age of 42.
"I was not scared," he said.  "God sent me there, so I knew it would be OK.  And when I graduated, I was debt free. That's not amazing, that's God."
One of Graham's favorite verses comes from Philippians 4:6-7:  "Be anxious for nothing, but in everything by prayer and supplication with thanksgiving let your requests be made known to God.  And the peace of God, which surpasses all comprehension, will guard your hearts and your minds in Christ Jesus."
Graham opened his law career with Mason & Graham, P.C., in Pinedale, Wyoming, focusing on commercial law, commercial litigation, business entities and nonprofit associations.  He served a term as the elected county and prosecuting attorney.  His law practice also provided pro bono assistance to some individuals, churches and nonprofits. He continues to serve as the attorney for the Wyoming Southern Baptist Convention. He has been admitted to practice law in Wyoming, Texas, North Carolina and Tennessee.
In 1993, Martha was diagnosed with breast cancer. She sought treatment in Tyler, Texas, under the watchful eye of a close family friend who was a medical doctor.  Graham and their son, Nathan, who was then in high school, traveled back and forth as school breaks permitted.  In January 1996, Martha died, but not before seeing their son enrolled at Texas A&M.
Graham described the year after Martha died as gray and clouded. 
Having relocated to Tyler by then, he practiced law from a small office space owned by a friend.  There he met Pat, a widow who worked for a Christian ministry occupying another part of the building.  He invited her to a Christmas party, and suddenly, the gray cloud lifted.
"I never had a doubt or a second thought," Graham said about proposing marriage.  "God has been so gracious to me, twice."  Today, he and Pat have been married for over 20 years. They have six grown children and 10 grandchildren between them.
In 1999, Graham saw that North Carolina's Gardner-Webb University's Godbold School of Business was seeking to add a faculty member with a law degree. He applied, was hired and began teaching business law courses to undergraduate and graduate students.  His skills in organization, management, budgeting, team building and dispute resolution served him well during the 18 years he was at GWU.  He was named associate dean in 2008 and interim dean beginning in 2015. 
He also has taught as an adjunct professor of law at the University of Wyoming and Tyler Junior College.  Graham has taught law-related business courses at both the undergraduate and graduate levels, including courses in legal environment of business, human resources management, employment law, ecommerce, business law and ethics, and internet law, among others.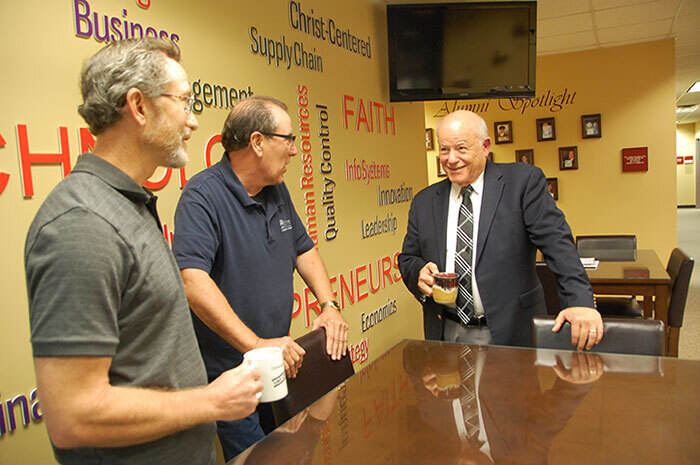 In his new role as business dean at LETU, Graham is committed to being student-focused and making sure "what we promise, we deliver." 
LETU business majors are enrolled in a variety of degree programs—some are in the residential program on campus, others are in the global program online or in Dallas or Houston areas. Either way, the goal is to make sure we meet the needs of students as we review our curriculum offerings.
Graham is also committed to building new and stronger relationships with the business community to expand opportunities for internships and employment for LETU students and graduates.  He wants to provide small businesses with expertise in areas like employment law, accounting fundamentals for small businesses, organizational behavior and management techniques for small businesses that will serve them and help their businesses grow.
"I want the business community around us to look to us as a resource," Graham said.  Building those relationships will take patience and persistence because it requires trust.