Stan Baker leaves a bittersweet feeling as he exits Longview Hall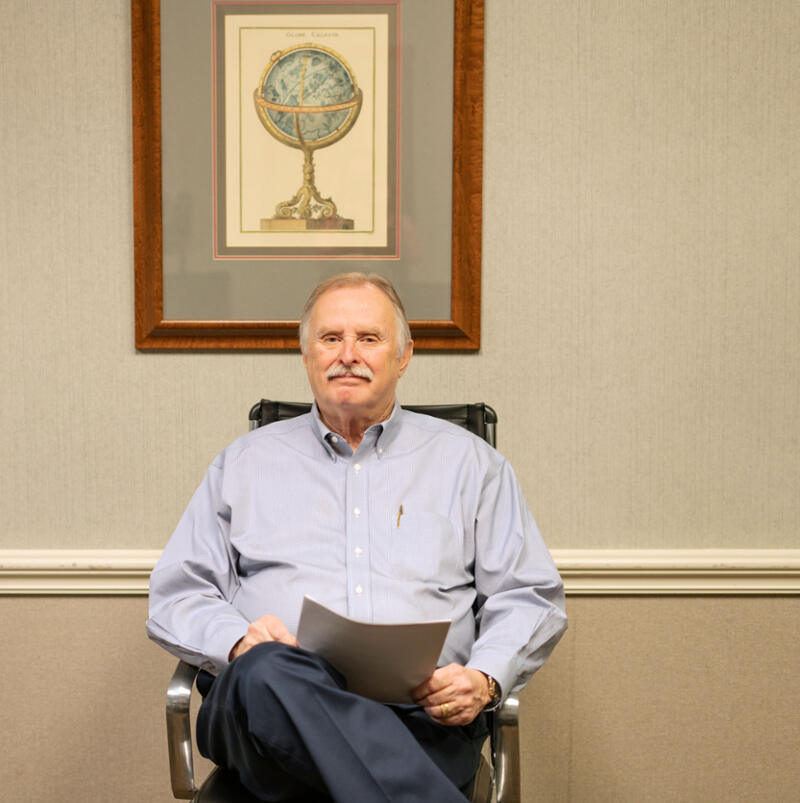 As professor Stan Baker from the School of Business at LeTourneau University retires in the Spring 2022 semester, he redefines what being a professor at the Christian Polytechnic University is all about. Teaching International Management and Communication—amongst other classes—Mr. Baker actively encouraged students from all kinds of backgrounds to share their story, highlighting the meaning and purpose in each of his students as children of God.
Mr. Baker, the first professor I met at LeTourneau University, set the standard for what I, as a student, look for in every professor at the school. A follower of Christ with a crystal-clear love and desire to be a mentor to his students, Mr. Baker dedicated his lectures to engaging with them and instilling Christian values in and out of the classroom.
"I know I will miss the engagement between the students and me. I get such joy in preparing today's students for tomorrow," he said. "It may sound strange, but I will miss the engagement in my classes between the students, too. The discussion has always been beneficial in the learning process."
Natalie Davenport, a Spring 2022 General Business graduate and current MBA student at LeTourneau, described Mr. Baker as "equally passionate and compassionate."
"He knows the value of his extensive experiences and he desperately wants his students to gain from them. With that, the students he teaches are his students. He knows every student's name, every class they've taken with him, and the assignments they've turned in in that class. He knows his students' workloads and their dreams," she said.
Having taught at LeTourneau for 18 years, Mr. Baker praised the emphasis the university places on excellence—on both an educational and religious level. Likewise, he addressed the global focus LeTourneau University takes pride in to form Christian professionals who positively impact the world.
"We emphasize excellence through integrating faith into the daily lesson. This results in us having a healthy Christian worldview. This practice helps us to discern between right and wrong as we attempt to please God," he said. "At the same time, education is the key to knowledge. Knowledge enables us to improve. And improvement results in feeling better about ourselves, while keeping in mind that we have a responsibility to improve society in order to improve the human condition."
A student of his with an evident soft spot for Mr. Baker's family and his teachings, Davenport looked back on what made him and his lectures special to her.
"Mr. Baker loves to tell educational stories about multicultural management, but he especially loves telling stories before class about his beautiful wife and their travels," Davenport said. "His eyes shine when he tells a story about their time in Mongolia. He has an extra soft spot for our international students and loves to compare stories. He is the ultimate storytelling professor."
Mr. Baker, who served in the Air Force for 22 years and has vast experience in international business, also highlighted the urgency of providing students with an education that is neutral. Simultaneously, he praised the objectivity and straight-forwardness professors show at LeTourneau University when discussing polarizing matters, such as different political and economic philosophies—often done in Mr. Baker's classes to analyze the impact these have on global businesses and the world.
"At a faith-based university like LeTourneau, we instructors integrate our beliefs and our Christian faith into the classroom so that students have access to information and become knowledgeable if they were not before," he said. "They become informed about the pluses and minuses, however—the good and bad."
Mr. Baker elaborated on what the next chapter of his life will look like after retiring from LeTourneau University. As is requested, he will continue to work with the Office of Global Initiatives, addressing international students matters. At the same time, he will be involved in missions in Alaska. When he's not doing so, Mr. Baker will dedicate his time to his woodwork, his grandkids and great grandkids.
 Article written by Adriana Cisneros Emerson