A comprehensive aviation experience from day one.
LETU aviation students have access to equipment and facilities that foster a comprehensive hands-on learning experience from their first day on campus.
The Fleet
Structures Lab
Composites Lab
Reciprocating Engines Lab
Turbine Engines Lab
The Yard
UAS Lab
Flight Simulator Lab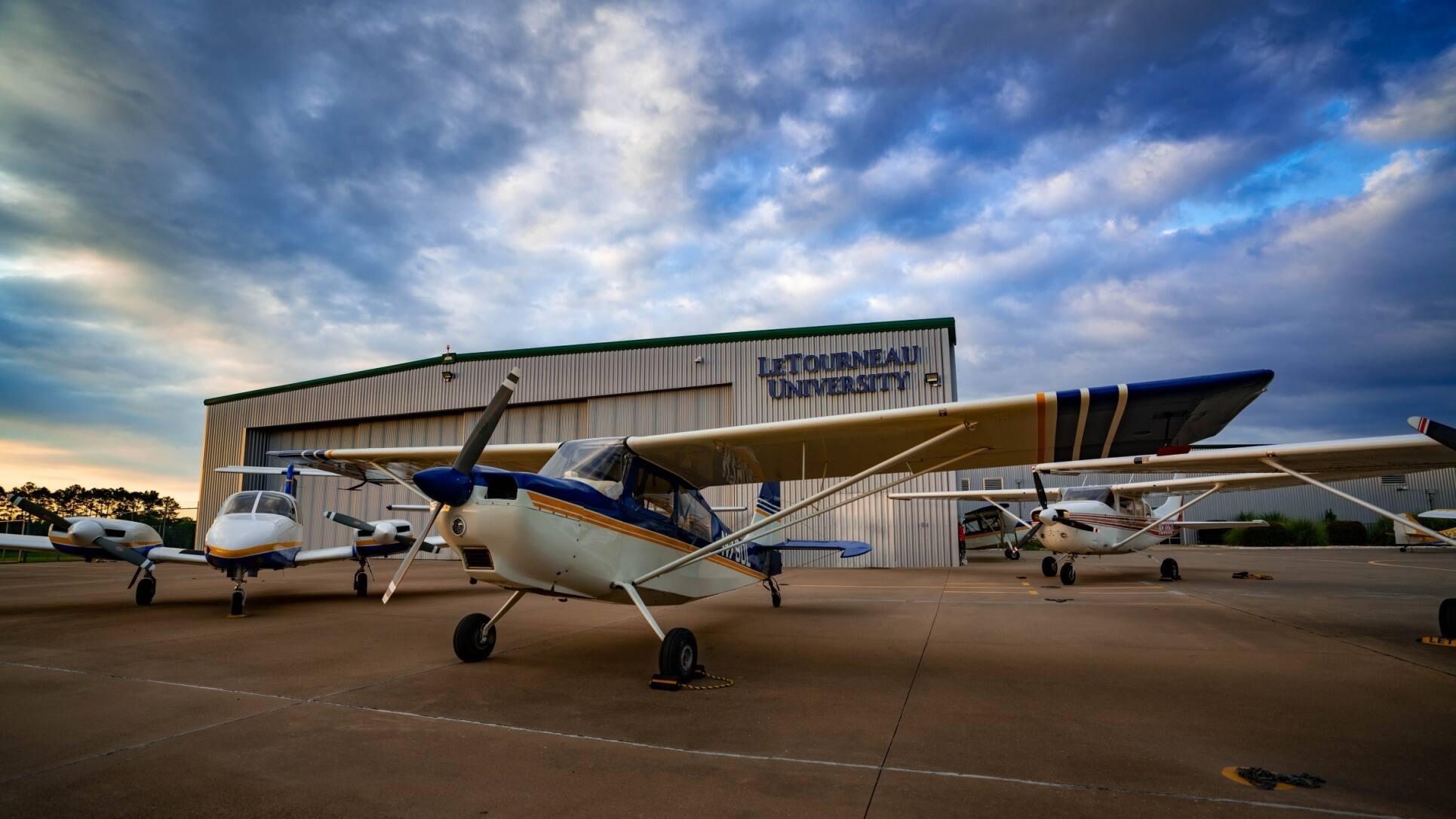 Every part of an aircraft is necessary, and has a specific role to play in safe and effective operation. Structures however, may come to mind as one of the more obvious of those necessary parts. Fuselage, wings, an empennage (otherwise known as tail assembly), landing gear, and a powerplant all come into play when our students are learning about aircraft structures.
Get in touch with your inner Wright brother in this composites lab. Here students receive training on fabrication and repair of composite, carbon-fiber, fabric and wood materials.
A deep understanding of composites is crucial to becoming a professional in the aviation industry as weight reduction, high impact resistance, resistance to fatigue/corrosion, and other factors all come into play when applying this area within industry.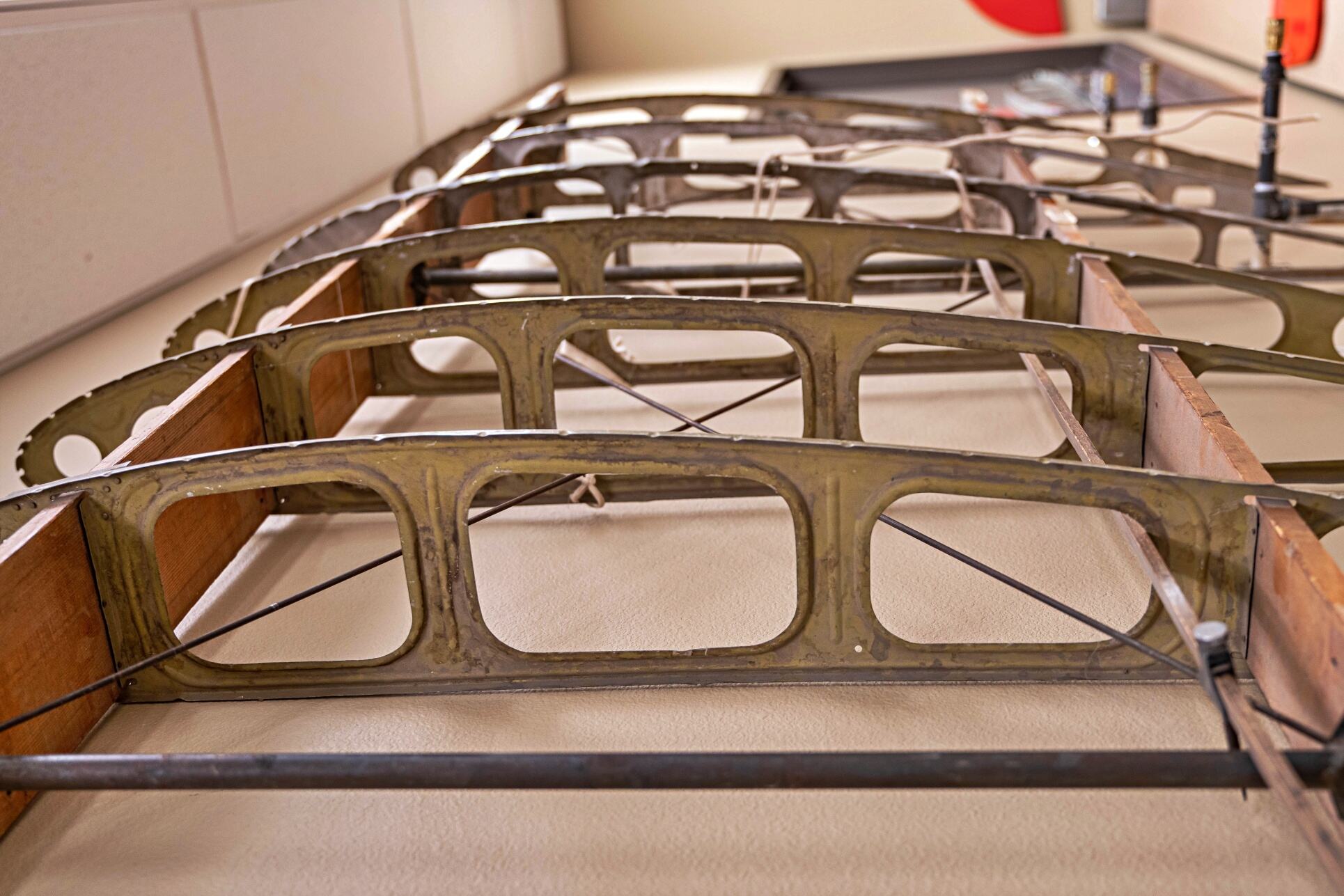 Aviation maintenance students (or anyone who loves engines) always enjoy the education received in this reciprocating engines lab, also known as "recips".
An aircraft reciprocating engine or "recip", is an internal combustion engine that uses one or more reciprocating pistons to convert pressure into a rotational motion. The aircraft piston engine operates on the same principles as the engines found in most automobiles.
In this lab, students are able to disassemble and (hopefully) reassemble these engines, providing a deeper understanding of all the inner workings.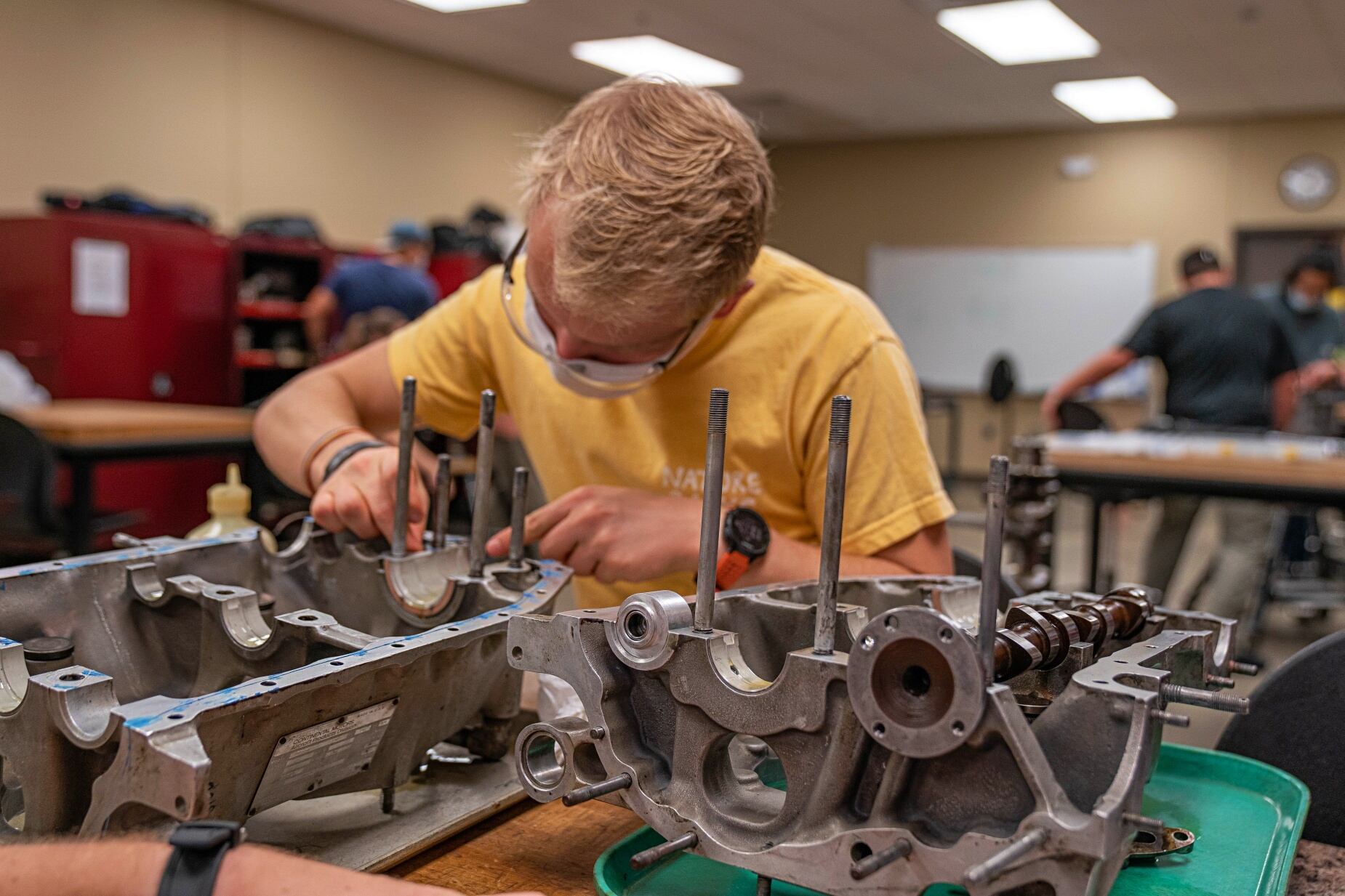 Most jet engines used in aviation are air breathing, axial flow, gas turbine engines. There are four different types of turbine engines – turbojet, turboprop, turbofan and turboshaft.
This lab space allows students to have the hands-on experience necessary for training and development as professional pilots and aircraft maintenance professionals.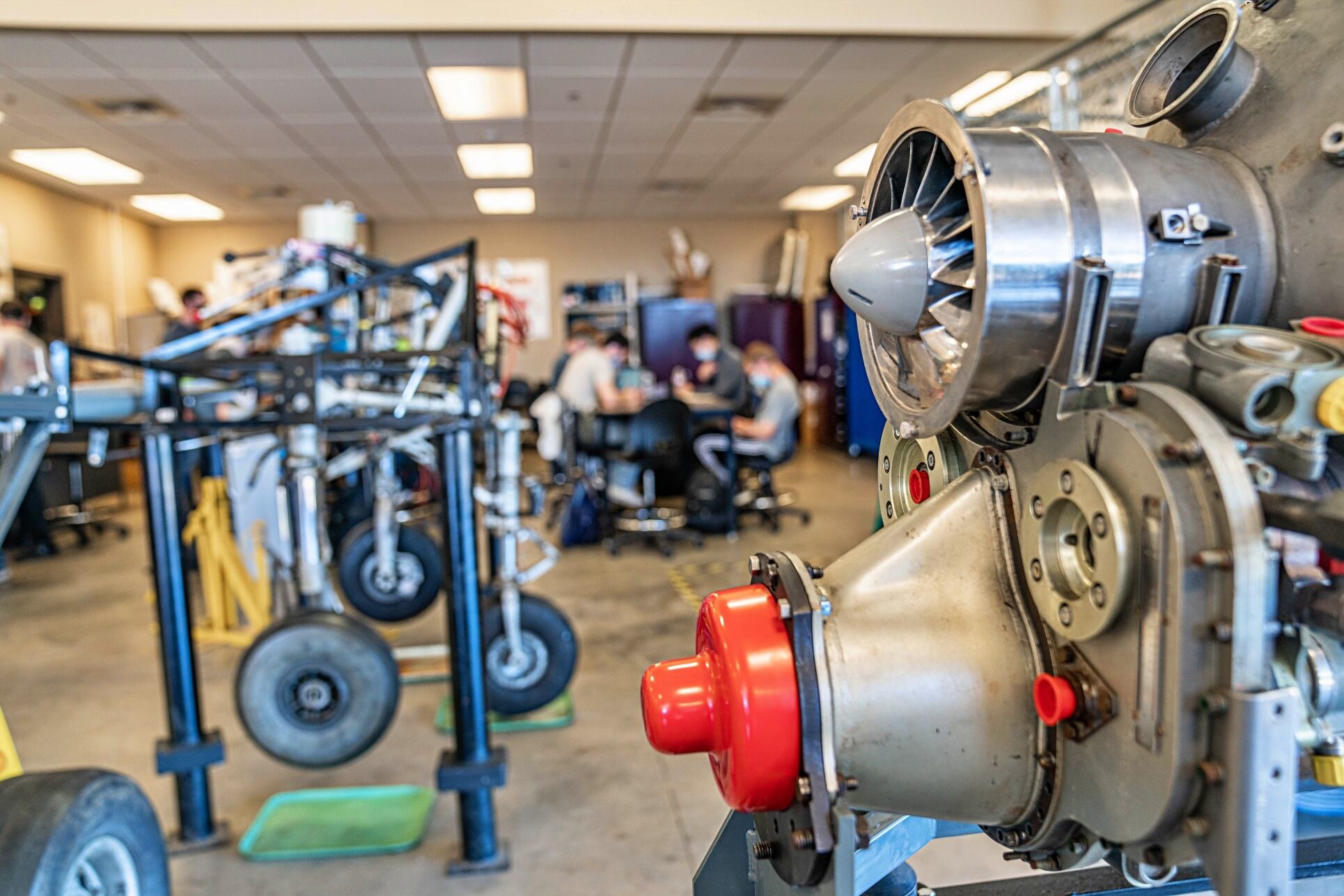 The Yard is a space for our students to troubleshoot and receive maintenance training on a variety of aircraft, as well a space for engine test runs (did you pay attention in recips?). The collection includes a Cessna 182RG, Gremlin Cheetah, Piper Arrow, Hughes 269 helicopter, Beechcraft Baron, GE CFM-56 turbofan engine (from a Boeing 737-300), North American Sabreliner, Cessna 310, Beechcraft King Air, and Cessna 421.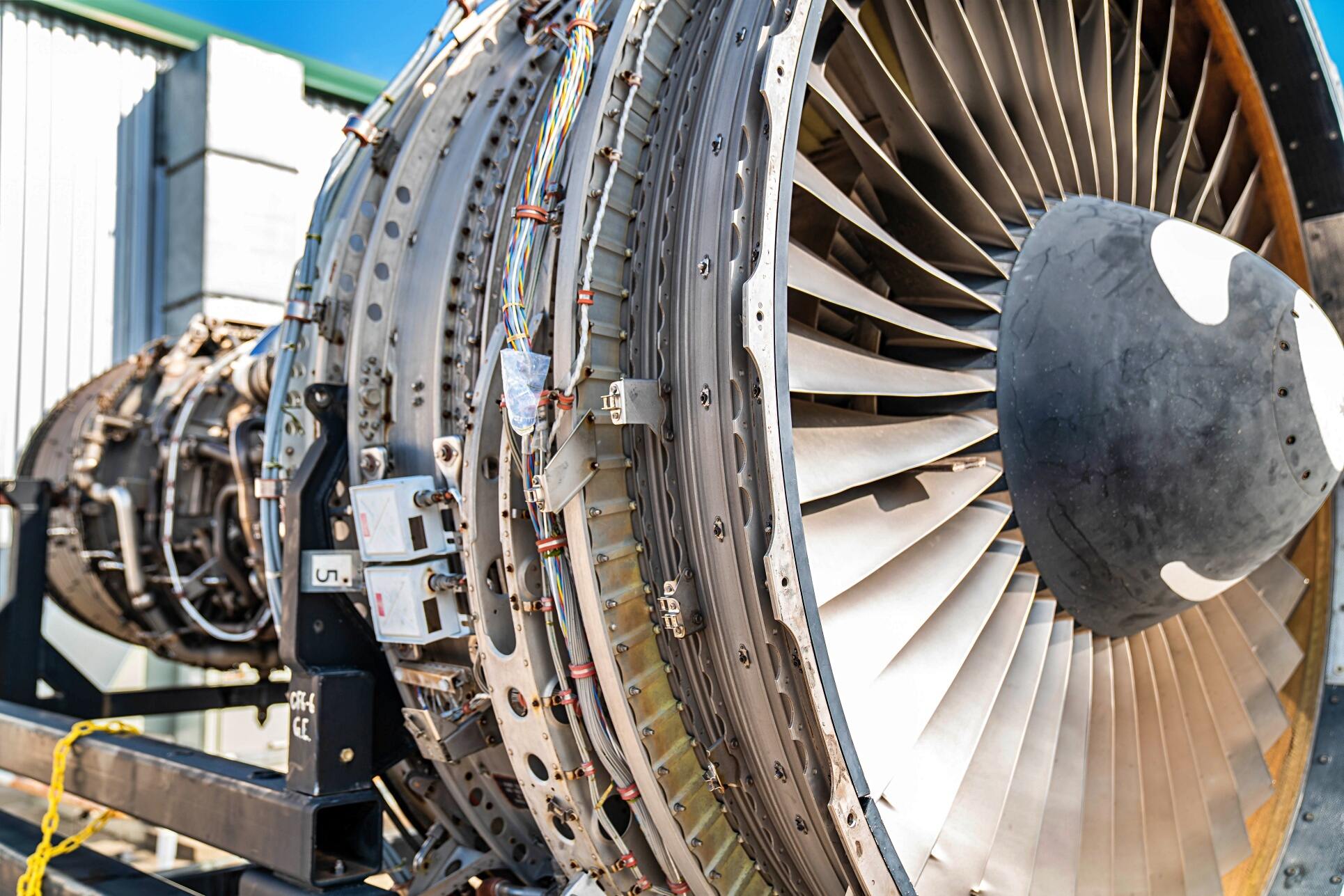 Enter the incredible (not to mention enjoyable) world of unmanned aircraft models! For anyone interested in all manner of fixed-wing drones or other types unmanned aircraft, this space will certainly speak to your heart - while educating your mind as well, that is.
The field of unmanned aircraft is increasingly expanding to multiple other industries including commercial, agricultural, scientific, recreation and more.
Definitely "not your dad's Microsoft flight simulator", these FAA approved simulators provide much appreciated additional "flight time" for our flight students. These devices allow training and practice without the expense of an airplane. We can fly instrument approaches across the country without the travel. You can also learn how to manage systems failures that are too dangerous or impossible to simulate in a real airplane.
During bad weather, when the fleet is all booked up, or simply to practice certain maneuvers once more before getting back in the real cockpit, this simulator lab adds additional flexibility for professional flight training.