Message from Dr. Dale Lunsford, President
Message from Dr. Steven Mason, Provost and Vice President for Academic Affairs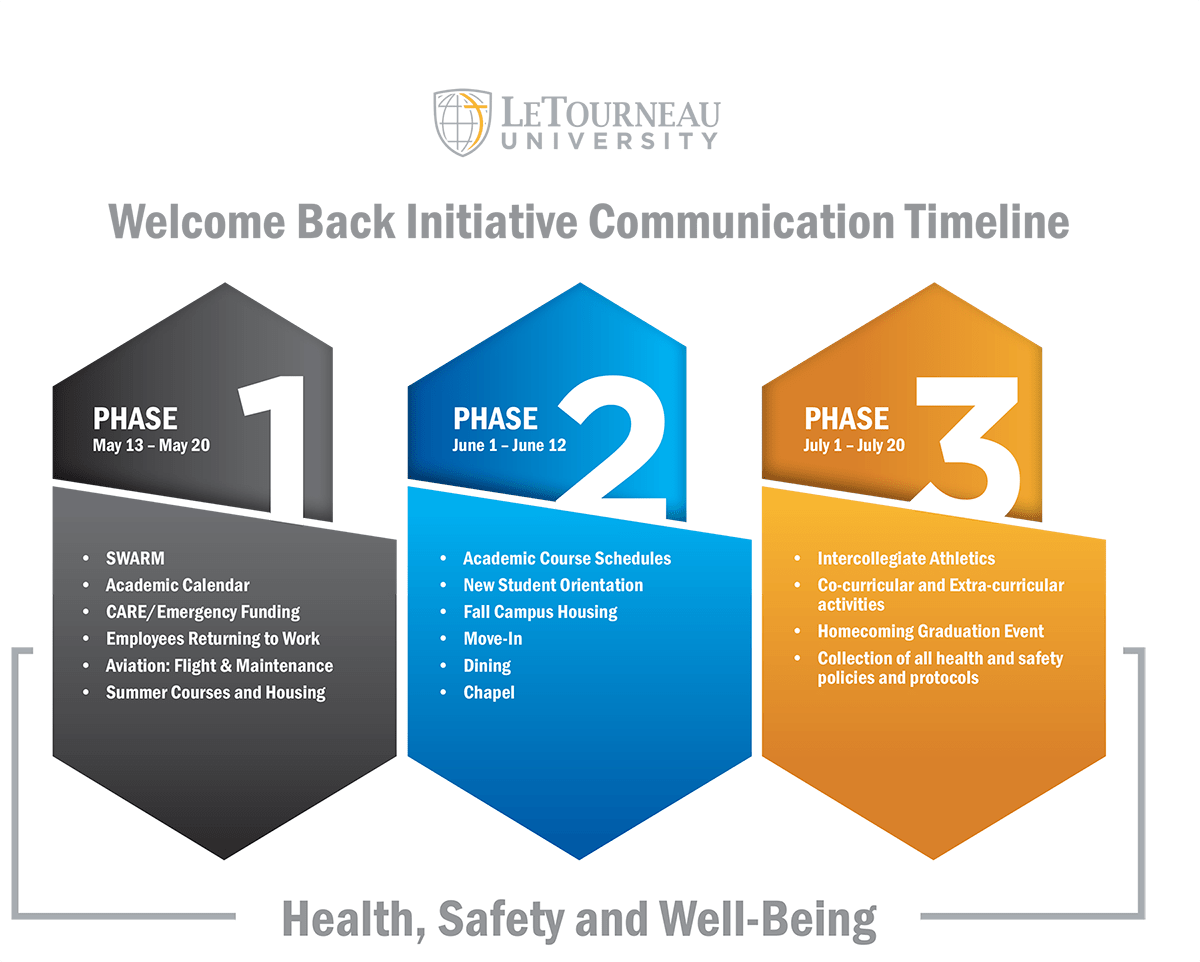 ---
May 19, 2020
Dear LeTourneau University Community,
Thank you again for the incredible effort all exerted to make our spring 2020 semester a success, despite the challenges the pandemic placed on us as faculty, staff, and students. Way to go Yellowjackets! More collective strength and wisdom will be required in the coming weeks and months, but I am eager to address them together diligently and prayerfully as we stay focused on our Christ-centered mission.
In light of Dr. Lunsford's note yesterday, I want to update you on the latest progress of our Fall 2020 Welcome Back Initiative. As you know from previous corre spondence, this is our comprehensive strategy for carefully resuming campus activity in person. The aim of the initiative is,
"...to prepare for a grand return to the practices of university and campus life while keeping paramount (1) the health and safety of students, staff, faculty, and the Longview community; (2) the distinctives of a LeTourneau education; (3) the engagement of every student in community; and (4) the necessary innovations of teaching, learning, and living together in a world forever changed by the Covid-19 pandemic. In so doing, we seek to bear witness to the hope of the Gospel by loving God and neighbor and responsibly stewarding the gifts of the university for the sake of the world."
With this aim in view and in concert with state and local directives, transition to careful and selective in-person activity is already underway. And, some important decisions have been made in view of opening up in full in the fall. Please note that the summer and fall academic calendars will change for traditional students, and the summer academic calendar will change for nontraditional students. Here is some detail:
Traditional fall classes will begin August 17th and run 14 weeks. Finals will end on Thursday, November 19th. The midterm break is eliminated, and the semester ends a week before Thanksgiving.
The nontraditional fall calendar will not change. It will begin on August 24th like originally planned and the three fall nontraditional modules will span the original length of the semester.
For this summer, all full-length courses will end one week earlier than originally scheduled. Summer courses originally scheduled to end on August 23, but not full-length, will begin and end one week earlier than originally scheduled.
Returning students, it is important for you take a moment to look at each scheduled class to ensure that you have the correct beginning and ending dates. The course schedules will be updated by the end of this week and will be available at www.letu.edu/academics/course-schedules/index.html. Details for New Student Orientation and housing move-in will be coming soon. I also invite you to our FAQs related to these matters, which is available at www.letu.edu/wbi. This web page is dedicated to all information regarding LeTourneau's Welcome Back Initiative for reopening the campus.
We are confident that we can continue to provide a world-class Christian Polytechnic University education while taking the necessary precautions to keep our students, faculty, and staff safe. Let's continue to be steadfast in prayer as we move forward in our reopening plans.
In Christ's Service,
Steven D. Mason, Ph.D.
Provost & Vice President for Academic Affairs
---
May 18, 2020

Greetings LeTourneau University Community,
Even as I write to you this morning from home, my heart is drawn to campus and the excitement that, with God's grace, we will all be back together again in residence soon.  Just days ago, I announced that LeTourneau would return to in-person instruction and on-campus living in the fall (see announcement here).  Since then, much progress has been made:
The Texas Governor has begun to implement a phased re-opening of the Texas economy along with expanded monitoring and virus testing;
LeTourneau employees are returning to campus in a deliberate, gradual process that began with our facilities team who are preparing the campus for fall classes;
Provost Dr. Steve Mason has organized a "Welcome Back" team that will design new living, learning, and workplace processes for a safe and productive new academic year;
Students are registering for summer and fall classes in strong numbers.
I know you join me in looking forward to learning and living in community again!
LeTourneau's Welcome Back Initiative will design, implement and communicate many important safety enhancements in the months leading up to our Fall 2020 semester. The team is a collaborative and interdepartmental effort of both faculty and staff. Guiding documents are available to our campus community for those who are interested in learning more about our ongoing work.  A timeline with key decisions is available above. The Welcome Back Initiative webpage serves as the hub for all welcome back information and updates will be provided often. Of course, we will leverage numerous communication platforms to share this information with our community over the next several weeks.
Several key decisions have already been made regarding our fall academic calendar, summer housing and summer flight instruction. You will receive details about these from Dr. Mason, tomorrow, Tuesday, May 19, 2020.
Over the summer, you'll want to regularly check the Welcome Back Initiative webpage.  We want to answer all of your questions. 
The health of our students, faculty, staff and community remain my main concern.  We will comply with all federal, state and local public health standards.  We will be creative and flexible in how we live and learn together.  Our legacy of "LeTourneau Ingenuity" will serve us well.
I'm thankful for all diligently working to prepare for a grand return to campus this fall. Living and learning together in Christian community is the enduring promise of LeTourneau University and we are up to the challenge of continuing our legacy.  Please know that we care about you, we love you, we pray for you and we look forward to seeing all of your smiling faces very soon.
Dale A. Lunsford, Ph.D.
President