by Andrew Mindeman
Like many other parts of the LeTourneau athletics department, the women's volleyball program also underwent change prior to the 2022-23 academic year. Alison Williams was named the program's head coach in March 2022 and ushered in a new era of YellowJacket volleyball along the way.
Williams and her husband, Nick, make up the coaching staff. The duo is focused on pursuing excellence on and off the court while also creating a disciple-cultivating culture.
"I want my program to be known for excellence. We are shaping and recruiting student-athletes who pursue excellence in everything they do," said Williams. "I want to create a program that has the character of Christ, is competitive, is committed to its academics, and is involved in the community."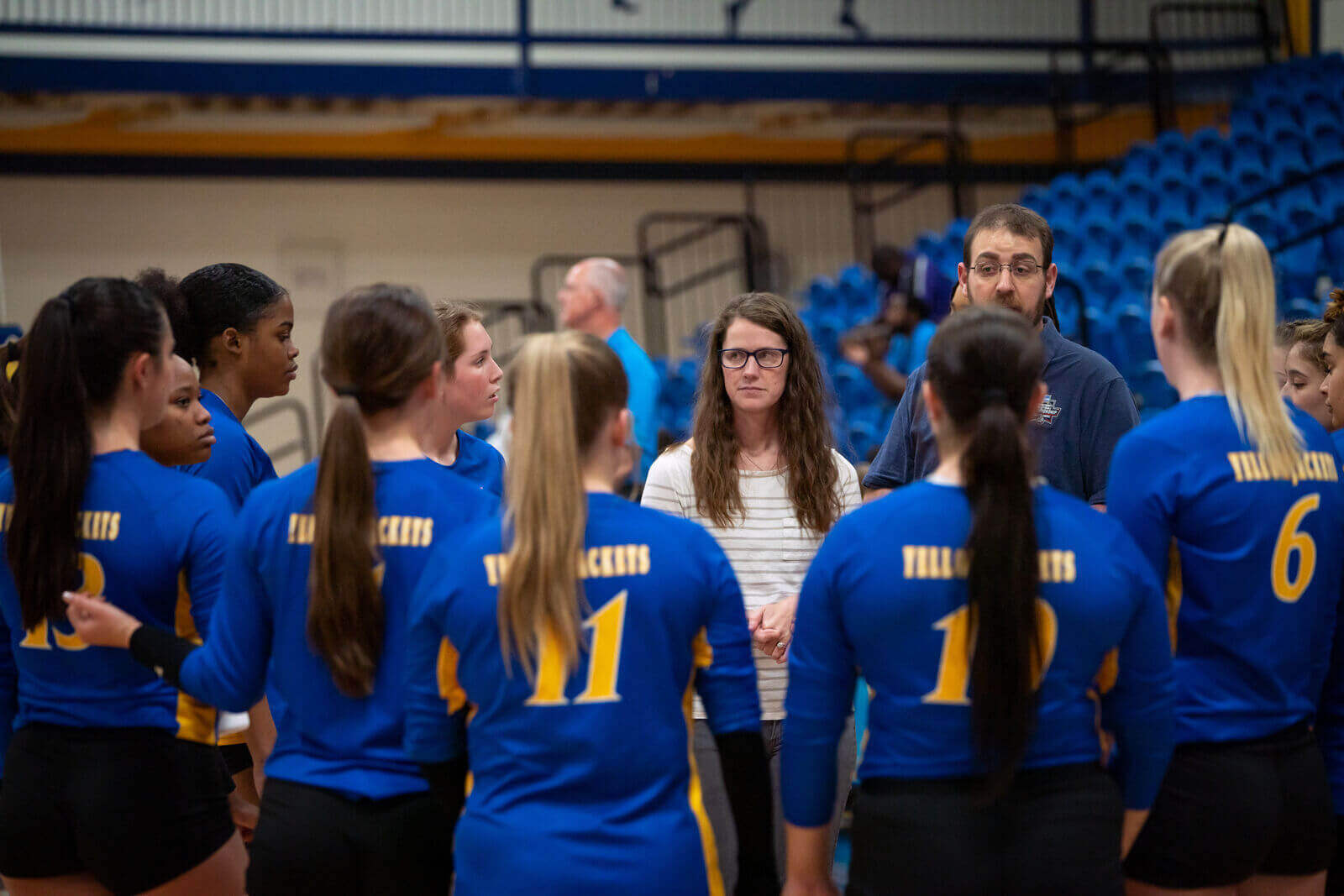 Williams' squad saw immediate success on the court as the YellowJackets went 15-11 during the regular season and qualified for the American Southwest Conference tournament in November. LeTourneau had four All-ASC selections, including the conference's Libero of the Year in Morgan Nix ('24).
Williams arrived at LeTourneau with previous head coaching experience at NCAA Division II member Lincoln Memorial (Tenn.) and NAIA member Martin Methodist (Tenn.) spanning eight seasons. However, there was something different about LeTourneau that drew her to Texas.
"One of the biggest draws was that coaching can be a family affair here. Coaching with Nick, and my children being welcome in the LeTourneau community was a high priority for me," added Williams. "Spiritually, being in a place where I can live out my faith and encourage young women in their walks with Christ is a great honor and privilege.
Athletically, stepping into a program that is on the upswing and yet still has much room for growth was extremely intriguing for me. Rising to the challenge of taking a program to the next level is any coach's dream."
A player that fits the profile? Morgan Nix. A junior from Cypress, Texas, Nix began her collegiate career at LeTourneau in 2020-21 before leaving the institution. She decided to return this year and is a key piece of the new culture inside LeTourneau volleyball.
"When I left, I felt like something was missing. This was truly my home away from home," said Nix. "The family environment and welcoming arms I knew I could not get anywhere else is what drew me back. I knew I still had the opportunity to play volleyball and figured I would give that another chance."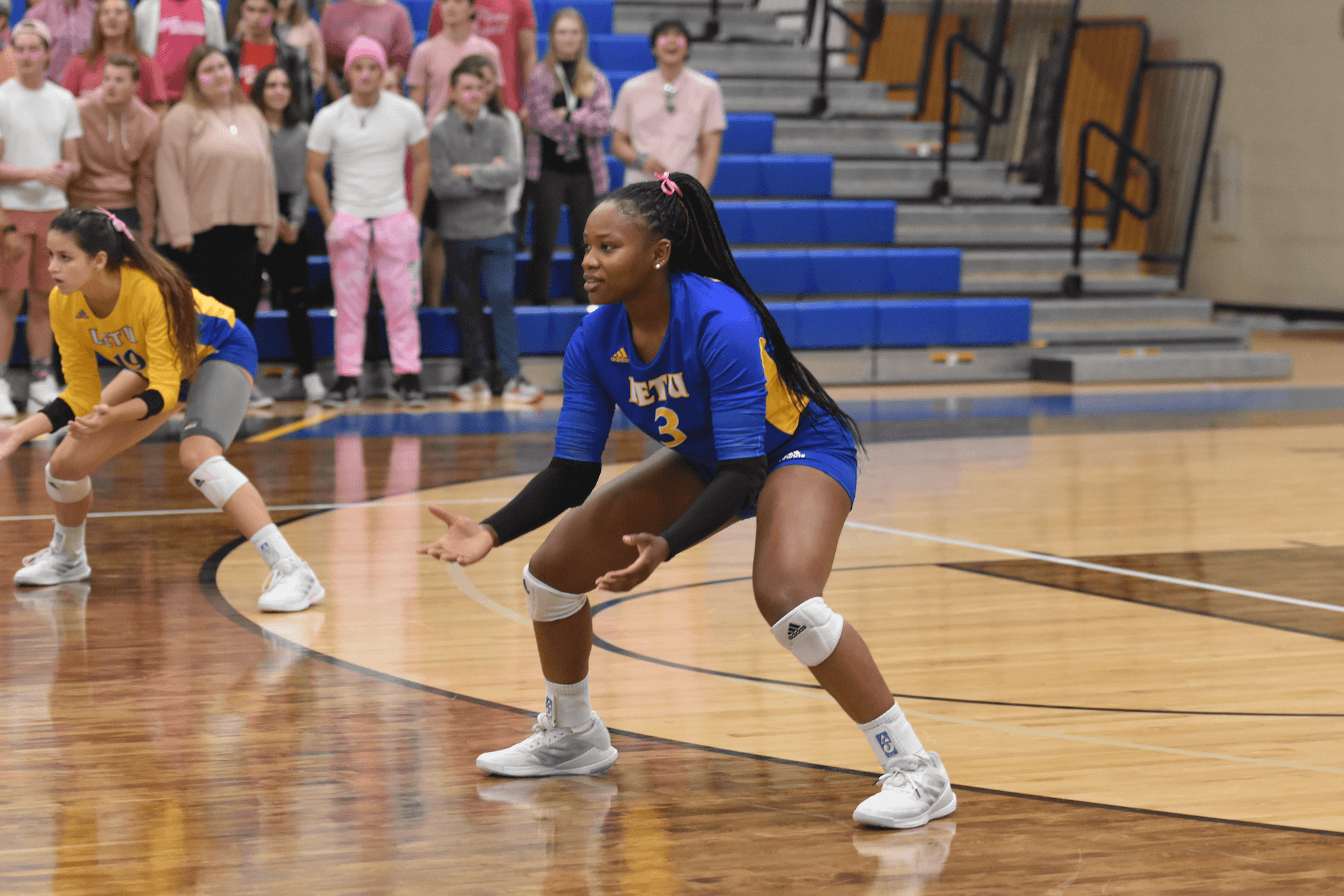 Nix is taking full advantage of her new opportunity. On the court, she earned American Southwest Conference Libero of the Year and broke the program's single-season record for digs while setting two single-match records. She has ranked in the top five in the nation in both digs and digs per set throughout the year.
"Morgan has such a high ceiling and, like our program, she's still figuring out what she is capable of," said Williams. "As the year went on, she took on greater leadership roles and expanded her presence on the court. She pursues excellence on and off the court and is a great kid. I never have to question her work ethic or drive for what she sets her mind to."
Nix began playing volleyball at age nine and realized her potential to play collegiately during her junior year in high school.
"I knew I was talented and had the work ethic to play somewhere but did not know where I would end up. When the doors opened for me to continue playing at LeTourneau, I could not turn it down. To see the growth from where I was at nine years old, to middle school, to high school and then to now is crazy. To be doing the things I said I wanted to do is only by the grace of God."
Now in her second go around at LeTourneau, Nix is reaping the benefits of being challenged on the court, classroom, and spiritually. "To see that I am thriving in the classroom and on the court, shows me that God brought me back to the place where I am supposed to be. This goes to show that a minor setback prepares you for an even better comeback, and that is what I did!"
Nix's personality and natural leadership abilities were on display throughout the season as LeTourneau competed with the best teams in the American Southwest Conference. The YellowJackets ended the year fourth in the conference and earned a trip to the conference tournament.
"Morgan is a goofy kid who is loved by her teammates. Her laugh is infectious, and she can float between anyone on the team to get along with," said Williams. Nix added, "I love the game of volleyball, but being able to prioritize both volleyball and academics at the same time is what makes LeTourneau special. LeTourneau is a place where I can thrive."