[ARCHIVED NEWS RELEASE]
01-10-2020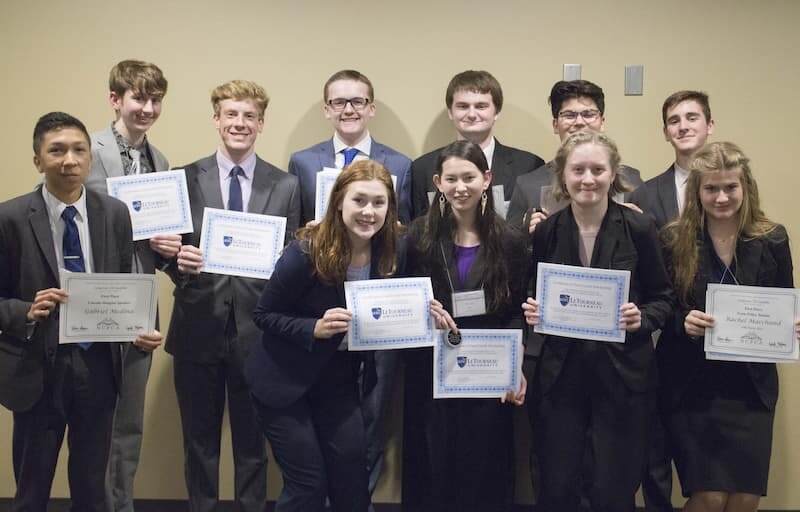 LeTourneau University hosted over 100 homeschooled high school students at the National Christian Forensics and Communications Association (NCFCA) Regional Qualifier speech and debate tournament Jan 3-4 on the university campus. The NCFCA is an organization that trains Christian high school students to glorify God as they address life issues and become prepared to impact the world for Christ.    
First place winners in each event received a free, online dual-credit course at LETU, which, if completed, qualifies them to receive a $16,000 per year scholarship, up to a total of $64,000, to attend LETU after they graduate high school.
First place award winners in the speech categories were Joseph Phillips in apologetics and extemporaneous speaking; Landon Chenault in biblical thematic, open interpretation and persuasive speaking; Annika Nelson in digital presentation and impromptu speaking; Bridget Kleiner in humorous interpretation; Ben Brown in informative speaking; and Jonathan Perkins and Benjamin Pittman in duo interpretation.
First place award winners in debate categories were Emma Ko for Lincoln-Douglas style debate, Rachel Marchand and Marco Ruiz for team policy style debate.  Gabriel Medina and Marco Ruiz won the Lincoln-Douglas Speaker Award and the Team Policy Speaker Award, respectively.
Students represented at the tournament came from clubs that included Apollos of Garland, Texas; Club 19:14 of Frisco, Texas; Arete of Ovilla, Texas; Rockwall Oratorical Club of Rockwall, Texas; Saints Peter and Paul Speech and Debate of Irving, Texas; Veritas Excelsior of Denton, Texas; Fort Worth Club of Fort Worth, Texas; Eagle Speak of Grace Covenant Academy in Frisco Texas; Legacy Christian Academy in Frisco, Texas; FCA in Lewisville, Texas; and Aurea Vox from the state of Oklahoma.
LeTourneau University is the Christian polytechnic university in the nation where educators engage students to nurture Christian virtue, develop competency and ingenuity in their professional fields, integrate faith and work, and serve the local and global community. LETU offers undergraduate and graduate degree programs across a range of disciplines and delivery models at LETU's residential campus in Longview, Texas, hybrid options at centers in the Dallas and Houston areas and fully online programs. For additional information, visit www.letu.edu.
---
Categories: Political Science, Humanities