[ARCHIVED NEWS RELEASE]
10-24-2019
LeTourneau University Fine Arts will present its Fall 2019 Concert on two successive days at two locations: the first at 7 p.m. Tuesday, Nov. 12, at Trinity Episcopal Church, 906 Padon Street in Longview; and the second at 10:35 a.m. Wednesday, Nov. 13, at the Belcher Center on the LeTourneau University campus, 2100 S. Mobberly Ave. in Longview.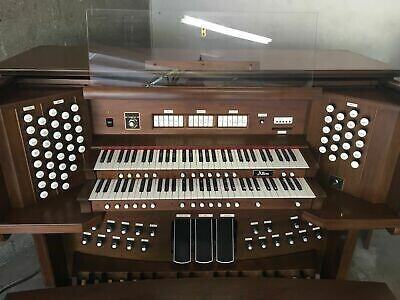 The Wednesday concert program will be abridged as part of the university's chapel service and will feature the university's newly acquired Allen ADC-5000 organ, purchased through generous donations and shipped to Longview last summer from Sarasota, Florida.  
Admission to both events is free and open to the public.
Described as a brass/organ/percussion/choral "extravaganza," the concerts will feature the much-loved Gloria by British composer, John Rutter, as well as other great works by German composers Ludwig van Beethoven and Sigfrid Karg-Elert, American composer Morten Lauridsen and other composers.
"The Gloria calls for four trumpets, three trombones, a tuba, timpani, percussion and organ," said LETU Director of Fine Arts Dr. Jim Taylor, who is directing the concert.  "The combined choirs of the LeTourneau Singers and the Longview Civic Chorus will number over 80 singers, and we can guarantee a grand and glorious sound of exaltation and praise."
In addition to the big brass works to be performed, Taylor has programmed two "delicious"—his words—reflective pieces, "Jesus, I Adore Thee," based on a 13th-century chant, and "Sure on This Shining Night," a modern classic that captures the beauty of the night sky. 
The fall festival concerts will also feature the Texas premiere of one of Taylor's own works, "Hail to the Lord's Anointed," commissioned in 2003 and recently revised. 
The sacred music will fit well with the spirit of the upcoming Thanksgiving season, including an audience-congregation singing of the Thanksgiving hymn "We Praise The, O God, Our Creator, Redeemer" which is also sung to the words, "We Gather Together to Ask the Lord's Blessing."
"It has been a great pleasure to introduce the Rutter Gloria to my students," Taylor said, "as well as the 'Hallelujah' from The Mount of Olives, an oratorio by Beethoven which is known mostly by this particular selection from it.  This fall festival concert is comprised of some of my favorite pieces, and I have no doubt that it will be delightful."
Accompanists will include Bill Bane and David Berryhill on piano and organ; Mike Scarlato, Doug Lockard, Jeremy McBain and Doice Grant on trumpet; Tom Mensch, Danny Vinson, Heather Mensch on trombone; Billy Collins on tuba; and Anthony Robinson and Terence Lloyd on timpani and percussion. 
Taylor, who had private composition lessons with Rutter in the 1980s and corresponded with him for years following, said Rutter is particularly fond of Texas. 
"Rutter has a wing on his house that was courtesy of the Texas Choral Directors Association for all the commissions and appearances he had done here," Taylor said, adding that he still owns a signed newsprint copy of Rutter's Requiem that Taylor sang years ago under Rutter's direction before it was in print.  Taylor has programmed Rutter's music for over 35 years, particularly his Christmas music.
LeTourneau University is the Christian polytechnic university in the nation where educators engage students to nurture Christian virtue, develop competency and ingenuity in their professional fields, integrate faith and work, and serve the local and global community. LETU offers undergraduate and graduate degree programs across a range of disciplines and delivery models at LETU's residential campus in Longview, Texas, hybrid options at centers in the Dallas and Houston areas and fully online programs. For additional information, visit www.letu.edu.
---
Categories: Fine Arts