[ARCHIVED NEWS RELEASE]
04-17-2019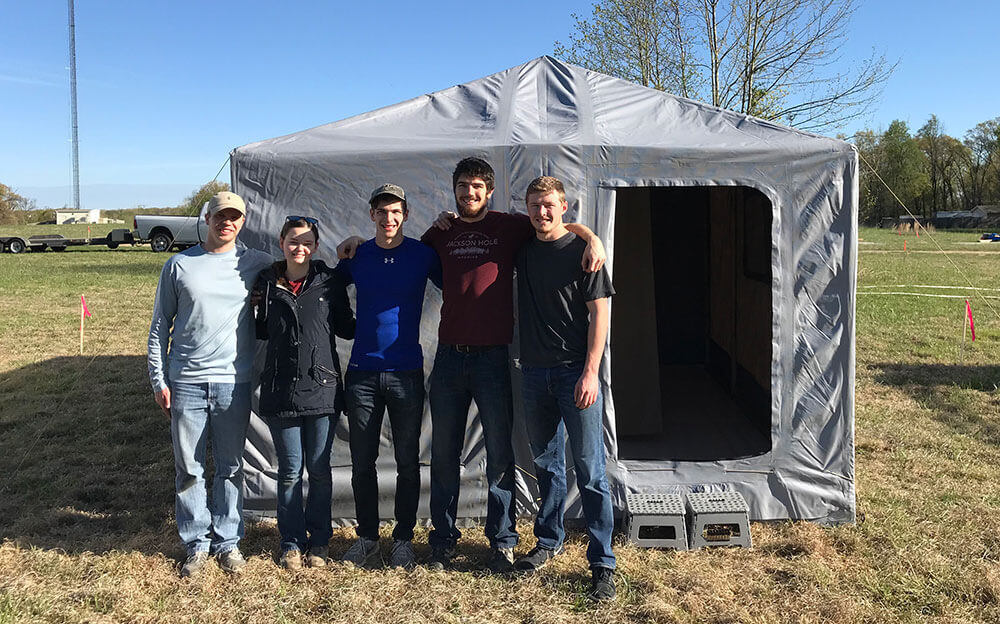 For the second consecutive year, LeTourneau University engineering students designed and built a rapidly deployable emergency disaster shelter that won 1st place in the 8th Annual Disaster Shelter Design Competition, sponsored by Samaritan's Purse International.
The competition was held this past weekend at John Brown University in Siloam Springs, Arkansas.  LETU students won first place in the competition last year with an entry that withstood 130-mph winds.
"Of the 10 or 12 universities planning to compete this year, only 6 completed their shelter prototypes and made it to the competition," said Dr. David Dittenber, faculty advisor of the LETU disaster shelter project, called SafeHome.
The 2019 Disaster Shelter competition incorporated consideration of all phases of disaster response, requiring emergency shelters and transitional shelters to last 1-3 years. 
"The competition design scenario this year was to provide shelters for individuals in Barbuda who lost their homes after hurricane Irma in 2017, which was the strongest recorded hurricane in the Caribbean, destroying 95% of the island's properties," Dittenber said. "They had no running water, no telephone or power. Each shelter was intended to be rapidly constructed in this environment in order to accommodate a family of 4 with at least a total of 151 square feet."
The competition judges, who evaluated the entries for possible implementation in relief efforts worldwide, have expertise in emergency management, engineering, logistics and manufacturing.
The entries had to consider the warm tropical climate, with considerations for heat, ventilation and rainfall, and they had to be culturally appropriate, aesthetic in appearance, and upgradable. They also had to be highly portable. Scoring was based on a variety of factors, such as habitability, ingenuity, performance during wind, rainfall, and seismic tests, the length of time to construct them, and a plan for providing sanitation for the island.
"Our LETU SafeHome team not only won the overall competition this year, but also received an award for providing the best sanitation plan," said Dittenber. "They also scored highest in the competition for their presentation, packaging and transportability, rain resistance, and seismic resistance. One of their best features this year was a rigid vinyl floor that really made their shelter feel like a comfortable and semi-permanent housing option."
LETU SafeHome Team members were:  Jessica Butcher (Hurst, Texas), Aaron Carter (Narvon, Pennsylvania), Joel Parker (Leadville, Colorado), David Upton (Longview, Texas), and Daniel Yohe (Houston, Texas).
Teams were scored based on their shelter's performance in individual events and on their presentations detailing their shelter's schematics, design and materials.
Rounding out the top three were 2nd place Dordt College (Sioux Center, Iowa) and 3rd place John Brown University (Siloam Springs, Arkansas).
Other universities participating included Pittsburg State University (Pittsburg, Kansas), Gyeongsang National University (Jinju, South Korea), and Abilene Christian University (Abilene, Texas).
LeTourneau University is the Christian polytechnic university in the nation where educators engage students to nurture Christian virtue, develop competency and ingenuity in their professional fields, integrate faith and work, and serve the local and global community. LETU offers undergraduate and graduate degree programs across a range of disciplines and delivery models at LETU's residential campus in Longview, Texas, hybrid options at centers in the Dallas and Houston areas and fully online programs. For additional information, visit www.letu.edu.
---
Categories: Engineering