The Humanities and Social Sciences department of LeTourneau University, in collaboration with university and community partners, is pleased to present the following Fall 2019 series of exhibits and related events. Exhibits and events are free and open to the general public, school groups, and university groups. For questions or more info, contact history@letu.edu.
The Apollo Missions: The 50th Anniversary of the Moon Landing (Sept. 9 - Oct. 13)
(Presented in Partnership with the NASA Johnson Space Center, LeTourneau University's College of Aviation & Aeronautical Science and the School of Engineering & Engineering Technology)
The Exhibit
This free, public exhibit features a collection of items from NASA's Johnson Space Center, including "The History of Manned Space Flight", a display on the Apollo missions, as well as an actual rear wheel tire from a Discovery shuttle, interactive displays to view videos, audio, and photos, an Apollo helmet, a model of the command module and lunar lander, and Richard Nixon's speech if the Apollo 11 mission had not been successful.
The exhibit is on display from Sept. 9th to Oct. 13th in LeTourneau's Longview Hall.  It is free and open to the public from 8am to 8pm Monday thru Saturday and 2pm to 8pm on Sundays.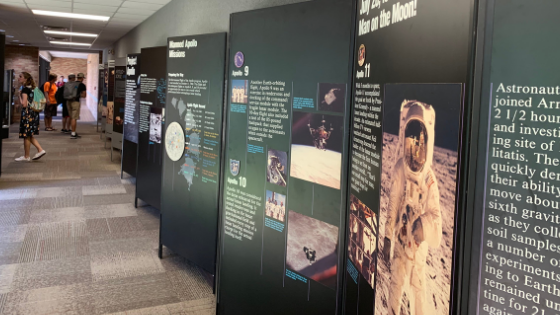 Special Event - Mission to the Moon: 1961 to 2024
Join us on Thursday, September 19th, from 9am to 1pm, for a special commemoration of the Apollo Missions in the Belcher Performing Arts Center.  Doors open at 9am to view a special collection of exhibits from NASA's Johnson Space Center, joined by a number of unique items from other local collections, in the Belcher Lobby.  At 10am, a special public lecture in the Belcher auditorium will feature interviews with three local East Texans who were involved in the Apollo project - from computer programming to designing the space suit to a a member of the operations control room staff.  At 11:15am, Dr. Byron Lichtenberg, former NASA astronaut, will give a guest lecture about his experience in space and about the future of the space program as NASA looks to 2024 and return to the moon of a man and woman.  The exhibits in the Belcher Lobby will remain open to the public until 1pm.  The entire event is free and open to the public.  Groups are encouraged to rsvp for the event by emailing history@letu.edu.  
Other Resources: Longview News Journal | CBS19 Live | KLTV News Story | KLTV WebExtra | KETK East Texas Matters Morning Show | KETK News at 6 |  Fox 51 Good Day Interview | Facebook Event Page
Texas Writers & Poets
(Oct 17 - Nov 16)
(Presented in partnership with the Margaret Estes Library and Humanities Texas, the state affiliate for the National Endowment for the Humanities)
The Exhibit
This collection is comprised of two exhibits created and provided by Humanities Texas.  The exhibit "Texas Writers" highlights the accomplishments of Texas writers, from East Texas to El Paso, from poets to science fiction writers.  It is joined by "Literary East Texas", highlighting twenty-five of the more than two hundred writers who call East Texas home.  
The exhibit will be on display from Oct 18th to Nov 16th in LeTourneau's Margaret Estes Library.  It is free and open to the public from 8am to 8pm Monday thru Friday, 12pm to 8pm on Saturdays, and 3pm to 8pm on Sundays.
Photograph by Nell Blakely. A barefoot boy walking toward the security of home illustrates William Goyen's poetic novel, The House of Breath, set in the fictional town of Charity, Texas.
Special Event - An Evening with John Poch
Join us on Thursday, October 17th at 7pm in the Allen Student Center Great Room for a special, public lecture and reading by award-winning Texas poet, John Poch.  Poch will be reading from his 2019 publication, "Texases".  In this wonderful collection of various forms of poetry, Poch offers readers a kaleidoscope through which to view his home state—its geography and people, its past and present.   The event is free and open to the public.  School and university groups are encouraged to rsvp via history@letu.edu.
"Like the 'staked plains, dry-land, long view man' he praises in one poem, John Poch knows the harsh beauty of Texas, and in this new collection he gives us a plural, abundant portrait of his beloved place. Here are prose poems, sonnets, villanelles, and all the enduring pleasures of formal verse, brought back down to earth by Poch's unflinching eye, and his hard-won knowledge of work, and people, and the past. TEXASES is a kind of psalter, full of graceful and moving love songs to the land."—Patrick Phillips